IPI Home › Events › Conferences › IPI Co-organizes Seminar for Representatives and Envoys of the Secretary-General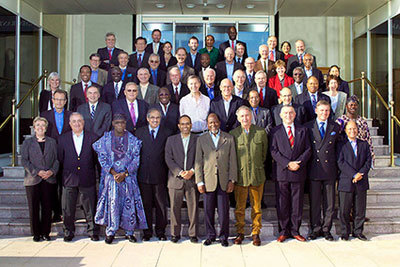 Conferences - Wednesday, October 31, 2007
IPI Co-organizes Seminar for Representatives and Envoys of the Secretary-General
IPI co-organized the Fourth Seminar for Special and Personal Representatives and Envoys of the Secretary-General with the United Nations Institute for Training and Research (UNITAR) from October 16th-18th at Le Mirador Kempinski Hotel in Mont Pèlerin, Switzerland. All current full-time representatives were invited to participate, along with the most senior staff in the relevant UN departments and agencies.
The biennial seminar provides a unique venue for SRSGs, PRSGs, RSGs, and Envoys to interact with each other and senior UN staff to discuss issues of importance to the implementation of peace operations in the hope of refining UN practice.

Former president of Nigeria, General Olusegun Obasanjo, delivered the keynote address on "The Evolving Strategic Environment." He was introduced by IPI President Terje Rød-Larsen who participated in the seminar as Special Envoy for the Implementation of Security Council Resolution 1559. IPI Vice President and Director of Studies Ed Luck also participated in the seminar in his capacity as Special Advisor to the Secretary-General for the Responsibility to Protect (Designate). The seminar concluded on the 18th with a dinner in honor of the Special and Personal Representatives and Envoys of the Secretary-General, hosted by Switzerland's State Secretary, Mr. Michael Ambühl.

As in the past, the seminar was funded by the Federal Department of Foreign Affairs of Switzerland, the Ministry for Foreign Affairs of Sweden, and the Department for International Development of the United Kingdom.
The Global Observatory
After the UN Goal on Women Expires, What Happens to the Quest for Gender Parity?
With unfinished business leftover from MDG 3, how will the international community make sure equal rights for women stays on the post-2015 agenda?
Key Global Events to Watch in March
A list of key upcoming meetings and events with implications for global affairs.
2014 Top 10 Issues to Watch in Peace & Security: The Global Arena
A list of ten key issues to watch that are likely to impact international peace and security in 2014, compiled by IPI's Francesco Mancini.
The Global Observatory, produced by IPI, provides timely analysis on peace and security issues, interviews with leading policymakers, interactive maps, and more.
Recent Events
February 26, 2014
Roméo Dallaire: Neutralize Child Soldiers Without Destroying Them
"We believe that by better training both police and military and a whole new dimension of working much closer, particularly information-wise, with NGOs and other agencies on the ground, we can work at neutralizing without destroying children as a system of weaponry in this era," said Lt. General Roméo Dallaire (Ret.) at an IPI event on February 26th.
February 19, 2014
Gary Bass: Forgotten Genocide May Portend Future Stain on UN Inaction
The inability of the United Nations Security Council to halt mass atrocities in East Pakistan some 40 years ago has parallels to current inaction in North Korea, argued Gary Bass, a professor of politics and international affairs at Princeton University, on February 19th.
February 18, 2014
Jok: Near Collapse in South Sudan Is Shocking but Not Surprising
The events that recently brought South Sudan to a near collapse were "extremely shocking, but they were not surprising by any means," said Jok Madut Jok, Executive Director of The Sudd Institute, at the International Peace Institute on February 18. "It was only a matter of time before the country returned to this kind of situation," he added.
View More
Latest News