IPI Home › Events › Panel Discussions › IPI Presents Ideas on Strengthening Capacity to Secretary-General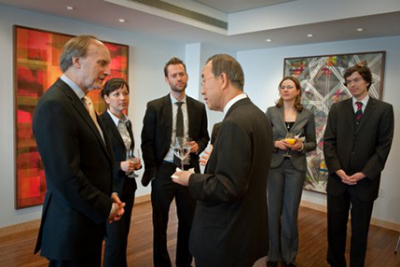 Panel Discussions - Thursday, April 30, 2009
IPI Presents Ideas on Strengthening Capacity to Secretary-General
Last week, IPI's program staff presented Secretary-General Ban Ki-moon and his senior-management team with ideas for action drawn from IPI's extensive Task Forces on Strengthening Multilateral Security Capacity at a meeting at IPI. Each of IPI's rapporteurs delivered a summary of core findings on chosen topics.
The rapporteurs and the areas each discussed were as follows: Francesco Mancini on the IPI Task Forces and cross-cutting recommendations; James Cockayne on transnational organized crime; Francois Carrel-Billiard on weapons of mass destruction; Pim Valdre on biosecurity; Naureen Chowdhury Fink on global terrorism; Adam Smith on peace operations; Jenna Slotin on peacebuilding; and Christoph Mikulaschek on mediation.

Edward C. Luck, IPI Senior Vice President and Director of Studies, presented on the responsibility to protect.

This meeting was part of the ongoing work of the Coping with Crisis program and its Task Forces on Strengthening Multilateral Security Capacity. The findings of the Task Forces can be found in the Blue Papers series, a set of eleven papers on key global challenges for peace and security which emerged from an intense process of consultation with more than sixty UN member states, half of them at ambassadorial level, and seventy experts in a variety of thematic areas. Each Blue Paper includes a section on why action to strengthen capacity in a particular area is needed and a section on ideas for action.
Slide show: Image 1 of 4

 

Secretary-General Ban Ki-moon with IPI President Terje Rød-Larsen at the meeting.

















The Global Observatory
Aid Workers, More on the Front Lines, Suffer Increased Attacks: Interview with Abby Stoddard
Aid worker attacks were at their highest levels last year.
Key Global Events to Watch in March
A list of key upcoming meetings and events with implications for global affairs.
2014 Top 10 Issues to Watch in Peace & Security: The Global Arena
A list of ten key issues to watch that are likely to impact international peace and security in 2014, compiled by IPI's Francesco Mancini.
The Global Observatory, produced by IPI, provides timely analysis on peace and security issues, interviews with leading policymakers, interactive maps, and more.
Recent Events
February 26, 2014
Roméo Dallaire: Neutralize Child Soldiers Without Destroying Them
"We believe that by better training both police and military and a whole new dimension of working much closer, particularly information-wise, with NGOs and other agencies on the ground, we can work at neutralizing without destroying children as a system of weaponry in this era," said Lt. General Roméo Dallaire (Ret.) at an IPI event on February 26th.
February 19, 2014
Gary Bass: Forgotten Genocide May Portend Future Stain on UN Inaction
The inability of the United Nations Security Council to halt mass atrocities in East Pakistan some 40 years ago has parallels to current inaction in North Korea, argued Gary Bass, a professor of politics and international affairs at Princeton University, on February 19th.
February 18, 2014
Jok: Near Collapse in South Sudan Is Shocking but Not Surprising
The events that recently brought South Sudan to a near collapse were "extremely shocking, but they were not surprising by any means," said Jok Madut Jok, Executive Director of The Sudd Institute, at the International Peace Institute on February 18. "It was only a matter of time before the country returned to this kind of situation," he added.
View More
Latest News