IPI Home › Events › Panel Discussions › Greater than the Sum of Its Parts? Assessing "Whole of Government" Approaches to Fragile States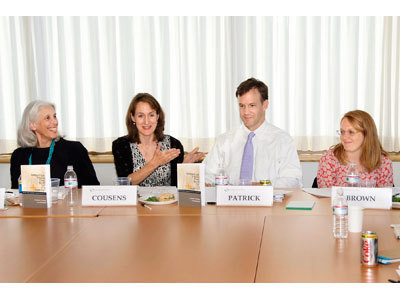 Panel Discussions - Thursday, July 12, 2007
Greater than the Sum of Its Parts? Assessing "Whole of Government" Approaches to Fragile States
The International Peace Institute launched its most recent book, Greater than the Sum of Its Parts? Assessing "Whole of Government" Approaches to Fragile States, by Stewart Patrick and Kaysie Brown.
Fragile states represent both the hard core of today's global development challenge and a growing source of threats to international security. As such, integrated approaches are needed to promote security, good governance and recovery in weak, failing and war-torn countries. Responding to this challenge, many donors are adopting "whole of government" strategies that bring together their diplomatic, defense, and development instruments--the so-called "3Ds."

Greater than the Sum of Its Parts? examines how these trends are playing out in seven leading donor countries: the United Kingdom, United States, Canada, Australia, Germany, France, and Sweden. The book candidly addresses the shortcomings in recent efforts to achieve "joined up" responses and underscores the tensions inherent in efforts to reconcile the priorities and time frames of foreign, defense, and development ministries.

Our panelists included Dr. Stewart Patrick, Research Fellow, Center for Global Development and Ms. Kaysie Brown, Program Associate, Center for Global Development. Our discussants included H.E. Ms. Karen Pierce, Ambassador and Deputy Permanent Representative of the United Kingdom to the United Nations and Ms. Nicole Ball, Senior Fellow, Center for International Policy.

This meeting was chaired by Dr. Elizabeth Cousens.
The Global Observatory
Nelson Mandela: Man and Awesome Phenomenon
A former member of the South African Parliament reflects on Mandela's warmth and generosity.
Ordinary Fears, Extraordinary Man: The Legacy of Nelson Mandela
As a young South African diplomat during the apartheid-to-democracy transition, Cedric de Coning witnessed the humility and power of a flawed statesman.
Key Global Events to Watch in December
A list of key upcoming meetings and events with implications for global affairs.

Top 10 Issues to Watch in 2013: The Multilateral Arena
Ten key issues that are likely to impact global affairs in international peace, security, and development.
The Global Observatory, produced by IPI, provides timely analysis on peace and security issues, interviews with leading policymakers, interactive maps, and more.
Recent Events
December 02, 2013
Latin America Focus of Fourth ''Being a Peacekeeper'' Event
On December 2-3, IPI brought together 24 representatives from eleven Latin American countries with senior officials from the UN Department of Peacekeeping Operations and the Department of Field Support to discuss the current state—as well as the future—of Latin American military and police contributions to UN peacekeeping operations.
November 28, 2013
Energy and Security in the Arctic: A New "Frozen" Conflict?
Is the Arctic a "region of cooperation," or will competition for its potentially rich energy resources lead to conflict in the high north? This was the main question addressed during an expert workshop held in The Hague on November 28th by the International Peace Institute together with the International Gas Union and the Clingendael International Energy Programme.
November 22, 2013
Can Technology Play a Role in Drafting a Constitution?
The effects that new technologies can have on constitutional processes was the topic of this November 22nd IPI roundtable discussion. Approximately five new constitutions are written around the world every year, and their legitimacy is increasingly influenced by a new level of public participation in their drafting, not merely by a plebiscite on the final text. As rapidly advancing technology changes the way that governments and citizens interact, what role are new technologies playing in constitutions?
View More
Latest News