IPI Home › Events › Panel Discussions › Greater than the Sum of Its Parts? Assessing "Whole of Government" Approaches to Fragile States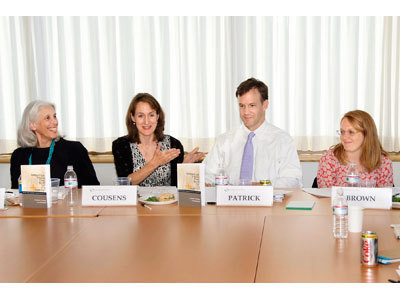 Panel Discussions - Thursday, July 12, 2007
Greater than the Sum of Its Parts? Assessing "Whole of Government" Approaches to Fragile States
The International Peace Institute launched its most recent book, Greater than the Sum of Its Parts? Assessing "Whole of Government" Approaches to Fragile States, by Stewart Patrick and Kaysie Brown.
Fragile states represent both the hard core of today's global development challenge and a growing source of threats to international security. As such, integrated approaches are needed to promote security, good governance and recovery in weak, failing and war-torn countries. Responding to this challenge, many donors are adopting "whole of government" strategies that bring together their diplomatic, defense, and development instruments--the so-called "3Ds."

Greater than the Sum of Its Parts? examines how these trends are playing out in seven leading donor countries: the United Kingdom, United States, Canada, Australia, Germany, France, and Sweden. The book candidly addresses the shortcomings in recent efforts to achieve "joined up" responses and underscores the tensions inherent in efforts to reconcile the priorities and time frames of foreign, defense, and development ministries.

Our panelists included Dr. Stewart Patrick, Research Fellow, Center for Global Development and Ms. Kaysie Brown, Program Associate, Center for Global Development. Our discussants included H.E. Ms. Karen Pierce, Ambassador and Deputy Permanent Representative of the United Kingdom to the United Nations and Ms. Nicole Ball, Senior Fellow, Center for International Policy.

This meeting was chaired by Dr. Elizabeth Cousens.
The Global Observatory
Killing of al-Shabaab Leader Throws Future of Militant Group into Question
In the short term, the killing of Godane is likely to result in more violent attacks, but longer-term consequences are hard to predict.
Key Global Events to Watch in September
A list of key upcoming meetings and events with implications for global affairs.
2014 Top 10 Issues to Watch in Peace & Security: The Global Arena
A list of ten key issues to watch that are likely to impact international peace and security in 2014, compiled by IPI's Francesco Mancini.
The Global Observatory, produced by IPI, provides timely analysis on peace and security issues, interviews with leading policymakers, interactive maps, and more.
Recent Events
September 19, 2014
Madani: Extremist Group Actions "Cannot be Associated with Any Religion"
Iyad Madani, the Secretary-General of the Organisation of Islamic Cooperation (OIC), reaffirmed at IPI the Muslim world's commitment to religious tolerance and human rights and sought to distance Islam from the recent violent actions at the hands of extremist groups across Africa and the Middle East.
September 15, 2014
Despite Disaffection, Youth Still Engaged with Democracy
Young people around the world appear increasingly disaffected with politics and political institutions, particularly in countries where corruption is rampant and government accountability is lacking. Yet during a September 15th event commemorating the International Day of Democracy, a group of young political activists from three different continents spoke at IPI
September 10, 2014
Lessons from the Past, Visions for the Future: The Middle East After 1914
On September 10-11, 2014, the International Peace Institute launched its inaugural meeting at its Middle East Regional Office in Manama, Bahrain titled "Lessons from the Past, Visions for the Future: The Middle East After 1914."
View More