IPI Home › Events › Panel Discussions › Greater than the Sum of Its Parts? Assessing "Whole of Government" Approaches to Fragile States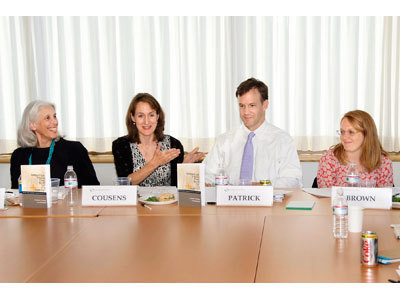 Panel Discussions - Thursday, July 12, 2007
Greater than the Sum of Its Parts? Assessing "Whole of Government" Approaches to Fragile States
The International Peace Institute launched its most recent book, Greater than the Sum of Its Parts? Assessing "Whole of Government" Approaches to Fragile States, by Stewart Patrick and Kaysie Brown.
Fragile states represent both the hard core of today's global development challenge and a growing source of threats to international security. As such, integrated approaches are needed to promote security, good governance and recovery in weak, failing and war-torn countries. Responding to this challenge, many donors are adopting "whole of government" strategies that bring together their diplomatic, defense, and development instruments--the so-called "3Ds."

Greater than the Sum of Its Parts? examines how these trends are playing out in seven leading donor countries: the United Kingdom, United States, Canada, Australia, Germany, France, and Sweden. The book candidly addresses the shortcomings in recent efforts to achieve "joined up" responses and underscores the tensions inherent in efforts to reconcile the priorities and time frames of foreign, defense, and development ministries.

Our panelists included Dr. Stewart Patrick, Research Fellow, Center for Global Development and Ms. Kaysie Brown, Program Associate, Center for Global Development. Our discussants included H.E. Ms. Karen Pierce, Ambassador and Deputy Permanent Representative of the United Kingdom to the United Nations and Ms. Nicole Ball, Senior Fellow, Center for International Policy.

This meeting was chaired by Dr. Elizabeth Cousens.
The Global Observatory
Research Suggests Discrimination Against Muslims in France Likely to Worsen
Recent behavioral research shows there is a basic discriminatory bias against Muslims in France.
Key Global Events to Watch in January
A list of key upcoming meetings and events with implications for global affairs.
2015: Ten Multilateral Events to Watch This Year
A list of ten events that are likely to impact international peace and security in 2015, compiled by IPI's Francesco Mancini.
The Global Observatory, produced by IPI, provides timely analysis on peace and security issues, interviews with leading policymakers, interactive maps, and more.
Recent Events
January 20, 2015
Mongolian Foreign Policy Between ''Two Giants''
On January 20, Mongolia's new Foreign Minister Purevsuren Lundeg visited the IPI Vienna office and gave an informal briefing on Mongolia's contemporary foreign policy priorities and challenges.
January 20, 2015
Dutch FM Koenders: ''The Security Council Has to Change''
Speaking to an overflow IPI audience on January 20th, Dutch Foreign Minister Bert Koenders acknowledged how far the United Nations has come since its inception 70 years ago but said that the organization still "has a lot of growing up to do."
December 15, 2014
Fathi: Iran and the Struggle Between Hardliners and Reformers
Discussing her new book The Lonely War: One Woman's Account of the Struggle for Modern Iran at IPI on December 15th, author Nazila Fathi said that 35 years after the revolution, Iran is divided between hardliners and a large moderate middle class, but admitted that it is still unclear which of the two sides will gain the upper hand.
View More