IPI Home › Events › Panel Discussions › Greater than the Sum of Its Parts? Assessing "Whole of Government" Approaches to Fragile States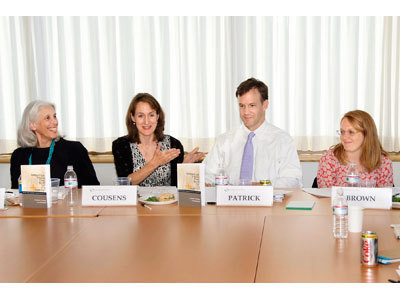 Panel Discussions - Thursday, July 12, 2007
Greater than the Sum of Its Parts? Assessing "Whole of Government" Approaches to Fragile States
The International Peace Institute launched its most recent book, Greater than the Sum of Its Parts? Assessing "Whole of Government" Approaches to Fragile States, by Stewart Patrick and Kaysie Brown.
Fragile states represent both the hard core of today's global development challenge and a growing source of threats to international security. As such, integrated approaches are needed to promote security, good governance and recovery in weak, failing and war-torn countries. Responding to this challenge, many donors are adopting "whole of government" strategies that bring together their diplomatic, defense, and development instruments--the so-called "3Ds."

Greater than the Sum of Its Parts? examines how these trends are playing out in seven leading donor countries: the United Kingdom, United States, Canada, Australia, Germany, France, and Sweden. The book candidly addresses the shortcomings in recent efforts to achieve "joined up" responses and underscores the tensions inherent in efforts to reconcile the priorities and time frames of foreign, defense, and development ministries.

Our panelists included Dr. Stewart Patrick, Research Fellow, Center for Global Development and Ms. Kaysie Brown, Program Associate, Center for Global Development. Our discussants included H.E. Ms. Karen Pierce, Ambassador and Deputy Permanent Representative of the United Kingdom to the United Nations and Ms. Nicole Ball, Senior Fellow, Center for International Policy.

This meeting was chaired by Dr. Elizabeth Cousens.
The Global Observatory
Are Recent Prison Breaks in Nigeria Part of a Southward Expansion by Boko Haram?
Whoever is behind them, these prison breaks signal that Nigeria's authorities are struggling to maintain the rule of law, not just in the far northeast, but also in the Middle Belt and the southwest.
Key Global Events to Watch in December
A list of key upcoming meetings and events with implications for global affairs.
2014 Top 10 Issues to Watch in Peace & Security: The Global Arena
A list of ten key issues to watch that are likely to impact international peace and security in 2014, compiled by IPI's Francesco Mancini.
The Global Observatory, produced by IPI, provides timely analysis on peace and security issues, interviews with leading policymakers, interactive maps, and more.
Recent Events
December 09, 2014
Small States in a Multilateral World
Despite their size and limited resources, small states have an important and crucial role to play in the multilateral system and can leverage their power through cooperation.
December 02, 2014
Protecting Civilians in Armed Conflict: From Concept to Norm
Five years after the adoption of Security Council Resolution 1894, the concept of Protection of Civilians in Armed Conflict (PoC) has become a widely accepted norm at the UN, featuring more and more in Council mandates and becoming a cornerstone of UN missions on the ground.
November 27, 2014
Dialogue on Multilateralism Continues in Geneva
The Geneva launch of the Independent Commission on Multilateralism (ICM) took place on November 27th in the Palais de Nations, the UN headquarters in Geneva which used to be the seat of the League of Nations.
View More