IPI Home › Events › Panel Discussions › Greater than the Sum of Its Parts? Assessing "Whole of Government" Approaches to Fragile States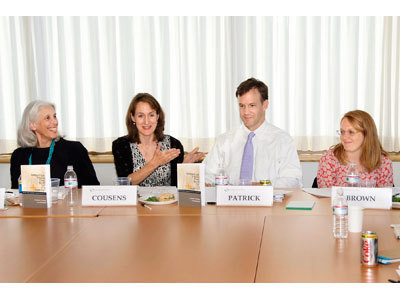 Panel Discussions - Thursday, July 12, 2007
Greater than the Sum of Its Parts? Assessing "Whole of Government" Approaches to Fragile States
The International Peace Institute launched its most recent book, Greater than the Sum of Its Parts? Assessing "Whole of Government" Approaches to Fragile States, by Stewart Patrick and Kaysie Brown.
Fragile states represent both the hard core of today's global development challenge and a growing source of threats to international security. As such, integrated approaches are needed to promote security, good governance and recovery in weak, failing and war-torn countries. Responding to this challenge, many donors are adopting "whole of government" strategies that bring together their diplomatic, defense, and development instruments--the so-called "3Ds."

Greater than the Sum of Its Parts? examines how these trends are playing out in seven leading donor countries: the United Kingdom, United States, Canada, Australia, Germany, France, and Sweden. The book candidly addresses the shortcomings in recent efforts to achieve "joined up" responses and underscores the tensions inherent in efforts to reconcile the priorities and time frames of foreign, defense, and development ministries.

Our panelists included Dr. Stewart Patrick, Research Fellow, Center for Global Development and Ms. Kaysie Brown, Program Associate, Center for Global Development. Our discussants included H.E. Ms. Karen Pierce, Ambassador and Deputy Permanent Representative of the United Kingdom to the United Nations and Ms. Nicole Ball, Senior Fellow, Center for International Policy.

This meeting was chaired by Dr. Elizabeth Cousens.
The Global Observatory
Airstrikes on ISIS Bring New Dimension to Aid Worker Safety: Q&A with David Miliband
A conversation with David Miliband, CEO of the International Rescue Committee, about US-led airstrikes on ISIS and their effects on the humanitarian response in Syria.
Key Global Events to Watch in September
A list of key upcoming meetings and events with implications for global affairs.
2014 Top 10 Issues to Watch in Peace & Security: The Global Arena
A list of ten key issues to watch that are likely to impact international peace and security in 2014, compiled by IPI's Francesco Mancini.
The Global Observatory, produced by IPI, provides timely analysis on peace and security issues, interviews with leading policymakers, interactive maps, and more.
Recent Events
September 25, 2014
Estonian President: Russia's Actions Threaten International System
On September 25th, President Toomas Hendrik Ilves of Estonia warned that Russia's recent aggression in Ukraine is a threat to the norms of the international system as we know them, and that it may lead to a drastic reassessment of foreign policy priorities in Europe.
September 22, 2014
Kevin Rudd, Former Australian PM, to Chair Independent Commission on Multilateralism
Kevin Rudd, former Prime Minister of Australia, will chair the newly launched Independent Commission on Multilateralism (ICM). The Commission will be co-chaired by Børge Brende, Foreign Minister of Norway, and John Baird, Foreign Minister of Canada.
September 22, 2014
IPI Hosts Ministers, Officials at Annual Mideast Dinner
On Monday, September 22nd, IPI held its Ninth Ministerial Dinner on the Middle East in its Trygve Lie Center for Peace, Security, and Development. The working dinner saw the participation of foreign ministers and other high-level representatives from the Middle East and North Africa, Europe, and beyond.
View More