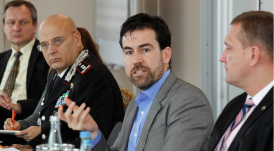 Panel Discussions - November 04, 2013
On November 4-5, IPI, together with the Center for International Peace Operations (ZIF), organized an expert seminar in Berlin to improve the capacity of peace operations to respond to the threat posed by organized crime.
Our Statement
One of the pillars of IPI is its convening role. Each year IPI organizes a wide-ranging selection of meetings designed to facilitate strategic thinking and policy development on issues related to peace and security. IPI aims to strengthen public awareness through the generation of policy recommendations and the dissemination of research findings not only within the UN community, but within academic, political, civil society circles and beyond. This is achieved through a range of off- and on-the-record discussions, including policy fora focusing on expert briefings, examinations of military and police practices and preparations, book launches, speaker presentations, workshops and seminars, and full-day and multi-day conferences.
Events Staff

Senior Adviser for External Relations
hoge@ipinst.org
Director of Events
feeney@ipinst.org
The Global Observatory
The Responsibility to Protect Principle is Not the Problem: Interview with Jennifer Welsh
Why hasn't the principle adopted by the United Nations in 2005 to prevent genocide, war crimes, crimes against humanity, and ethnic cleansing—known as the Responsibility to Protect (RtoP)—helped to stop the war crimes in Syria?
Key Global Events to Watch in December
A list of key upcoming meetings and events with implications for global affairs.

Top 10 Issues to Watch in 2013: The Multilateral Arena
Ten key issues that are likely to impact global affairs in international peace, security, and development.
The Global Observatory, produced by IPI, provides timely analysis on peace and security issues, interviews with leading policymakers, interactive maps, and more.