IPI Home › Events › Speakers Events › African Union Chair Jean Ping Discusses Future of AU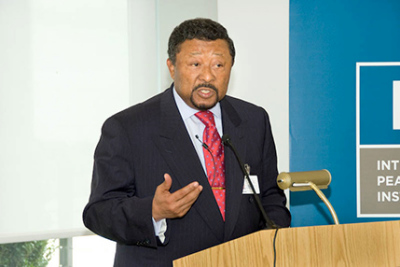 Speaker Events - Tuesday, September 30, 2008
African Union Chair Jean Ping Discusses Future of AU
On September 19, 2008, H.E. Mr. Jean Ping, Chairperson of the African Union Commission, addressed a group of diplomats and other members of the United Nations and NGO communities in IPI's Trygve Lie Center.
Mr. Ping spoke at length about the future of the AU, reminding those present that it has achieved much in just six years of existence, but cautioned that much remains to be done on the continent. Noting the encouraging signs of peace and security in Africa, which are often underreported, Mr. Ping said that "thinking must be followed by action," in order to achieve progress and maintain credibility on the international stage. He added, "there can be no lasting peace without development--economic development."
He highlighted the ways in which the AU is working to promote development and foster lasting peace in Africa, including such capacity-building measures as incorporating the New Partnership for Africa's Development (NEPAD) into the AU to facilitate economic development; the creation of the African Standby force by the AU and African Chiefs of Defense Staff; and the close monitoring of elections to ensure transparency and fair play.

Mr. Ping was president of the fifty-ninth session of the United Nations General Assembly, and was Ministre d'Etat, Minister for Foreign Affairs, Cooperation, and la Francophonie of the Gabonese Republic from 1999 until earlier this year. A career diplomat, Mr. Ping began his professional life at the United Nations Educational, Scientific and Cultural Organization (UNESCO) in Paris.

The well-attended event was part of IPI's African Leaders Series, which provides a platform for African leaders to reach out to the UN community in New York.

Speaker
HE Mr. Jean Ping,
Chairperson of the African Union Commission


Introductory Remarks
Terje Rød-Larsen, President of International Peace Institute
Slide show: Image 1 of 7

Photo Credits: Joe Peoples  

Terje Rød-Larsen, President of IPI, introduces Mr. Jean Ping, Chairperson of the African Union.



The Global Observatory
CWhat Makes a Terrorist Stop Being a Terrorist?
A close look at terrorist de-radicalization programs shows that it is still unclear whether they work, and if so, how.
Key Global Events to Watch in November
A list of key upcoming meetings and events with implications for global affairs.
2014 Top 10 Issues to Watch in Peace & Security: The Global Arena
A list of ten key issues to watch that are likely to impact international peace and security in 2014, compiled by IPI's Francesco Mancini.
The Global Observatory, produced by IPI, provides timely analysis on peace and security issues, interviews with leading policymakers, interactive maps, and more.
Recent Events
November 25, 2014
Independent Commission on Multilateralism Launched in Vienna
The Independent Commission on Multilateralism (ICM) was launched officially in Vienna on November 25th. The event was held at the Austrian Federal Ministry for Europe, Integration and Foreign Affairs and opened by Austrian Foreign Minister Sebastian Kurz.
November 13, 2014
Experts Forum: Assessing Links Between Peacebuilding and Organized Crime
Organized crime and peacebuilding can be seen as separate issues, but recent research and practice suggest the two are deeply linked—conflict is increasingly fueling crime, and crime in turn makes peace harder to achieve.
November 05, 2014
Top-Down Governance Hurts Women, Youth Participation
Governments in the Sahel and Maghreb are still using top-down approaches to governance that make it hard for women and youth to have a say in public life, even though their participation can help their governments' struggle against instability and extremism.
View More