IPI Home › Events › Speakers Events › African Union Chair Jean Ping Discusses Future of AU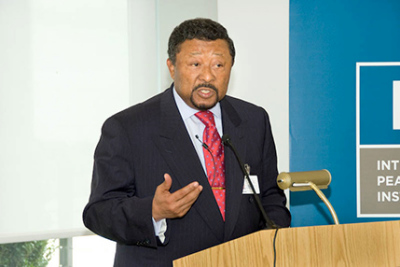 Speaker Events - Tuesday, September 30, 2008
African Union Chair Jean Ping Discusses Future of AU
On September 19, 2008, H.E. Mr. Jean Ping, Chairperson of the African Union Commission, addressed a group of diplomats and other members of the United Nations and NGO communities in IPI's Trygve Lie Center.
Mr. Ping spoke at length about the future of the AU, reminding those present that it has achieved much in just six years of existence, but cautioned that much remains to be done on the continent. Noting the encouraging signs of peace and security in Africa, which are often underreported, Mr. Ping said that "thinking must be followed by action," in order to achieve progress and maintain credibility on the international stage. He added, "there can be no lasting peace without development--economic development."
He highlighted the ways in which the AU is working to promote development and foster lasting peace in Africa, including such capacity-building measures as incorporating the New Partnership for Africa's Development (NEPAD) into the AU to facilitate economic development; the creation of the African Standby force by the AU and African Chiefs of Defense Staff; and the close monitoring of elections to ensure transparency and fair play.

Mr. Ping was president of the fifty-ninth session of the United Nations General Assembly, and was Ministre d'Etat, Minister for Foreign Affairs, Cooperation, and la Francophonie of the Gabonese Republic from 1999 until earlier this year. A career diplomat, Mr. Ping began his professional life at the United Nations Educational, Scientific and Cultural Organization (UNESCO) in Paris.

The well-attended event was part of IPI's African Leaders Series, which provides a platform for African leaders to reach out to the UN community in New York.

Speaker
HE Mr. Jean Ping,
Chairperson of the African Union Commission


Introductory Remarks
Terje Rød-Larsen, President of International Peace Institute
Slide show: Image 1 of 7

Photo Credits: Joe Peoples  

Terje Rød-Larsen, President of IPI, introduces Mr. Jean Ping, Chairperson of the African Union.



The Global Observatory
Nelson Mandela: Man and Awesome Phenomenon
A former member of the South African Parliament reflects on Mandela's warmth and generosity.
Ordinary Fears, Extraordinary Man: The Legacy of Nelson Mandela
As a young South African diplomat during the apartheid-to-democracy transition, Cedric de Coning witnessed the humility and power of a flawed statesman.
Key Global Events to Watch in December
A list of key upcoming meetings and events with implications for global affairs.

Top 10 Issues to Watch in 2013: The Multilateral Arena
Ten key issues that are likely to impact global affairs in international peace, security, and development.
The Global Observatory, produced by IPI, provides timely analysis on peace and security issues, interviews with leading policymakers, interactive maps, and more.
Recent Events
December 02, 2013
Latin America Focus of Fourth ''Being a Peacekeeper'' Event
On December 2-3, IPI brought together 24 representatives from eleven Latin American countries with senior officials from the UN Department of Peacekeeping Operations and the Department of Field Support to discuss the current state—as well as the future—of Latin American military and police contributions to UN peacekeeping operations.
November 28, 2013
Energy and Security in the Arctic: A New "Frozen" Conflict?
Is the Arctic a "region of cooperation," or will competition for its potentially rich energy resources lead to conflict in the high north? This was the main question addressed during an expert workshop held in The Hague on November 28th by the International Peace Institute together with the International Gas Union and the Clingendael International Energy Programme.
November 22, 2013
Can Technology Play a Role in Drafting a Constitution?
The effects that new technologies can have on constitutional processes was the topic of this November 22nd IPI roundtable discussion. Approximately five new constitutions are written around the world every year, and their legitimacy is increasingly influenced by a new level of public participation in their drafting, not merely by a plebiscite on the final text. As rapidly advancing technology changes the way that governments and citizens interact, what role are new technologies playing in constitutions?
View More
Latest News