IPI Home › Events › Speakers Events › African Union Chair Jean Ping Discusses Future of AU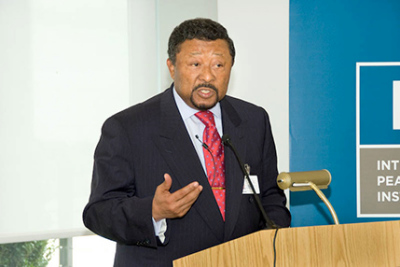 Speaker Events - Tuesday, September 30, 2008
African Union Chair Jean Ping Discusses Future of AU
On September 19, 2008, H.E. Mr. Jean Ping, Chairperson of the African Union Commission, addressed a group of diplomats and other members of the United Nations and NGO communities in IPI's Trygve Lie Center.
Mr. Ping spoke at length about the future of the AU, reminding those present that it has achieved much in just six years of existence, but cautioned that much remains to be done on the continent. Noting the encouraging signs of peace and security in Africa, which are often underreported, Mr. Ping said that "thinking must be followed by action," in order to achieve progress and maintain credibility on the international stage. He added, "there can be no lasting peace without development--economic development."
He highlighted the ways in which the AU is working to promote development and foster lasting peace in Africa, including such capacity-building measures as incorporating the New Partnership for Africa's Development (NEPAD) into the AU to facilitate economic development; the creation of the African Standby force by the AU and African Chiefs of Defense Staff; and the close monitoring of elections to ensure transparency and fair play.

Mr. Ping was president of the fifty-ninth session of the United Nations General Assembly, and was Ministre d'Etat, Minister for Foreign Affairs, Cooperation, and la Francophonie of the Gabonese Republic from 1999 until earlier this year. A career diplomat, Mr. Ping began his professional life at the United Nations Educational, Scientific and Cultural Organization (UNESCO) in Paris.

The well-attended event was part of IPI's African Leaders Series, which provides a platform for African leaders to reach out to the UN community in New York.

Speaker
HE Mr. Jean Ping,
Chairperson of the African Union Commission


Introductory Remarks
Terje Rød-Larsen, President of International Peace Institute
Slide show: Image 1 of 7

Photo Credits: Joe Peoples  

Terje Rød-Larsen, President of IPI, introduces Mr. Jean Ping, Chairperson of the African Union.



The Global Observatory
Key Global Events to Watch in September
A list of key upcoming meetings and events with implications for global affairs.
2014 Top 10 Issues to Watch in Peace & Security: The Global Arena
A list of ten key issues to watch that are likely to impact international peace and security in 2014, compiled by IPI's Francesco Mancini.
The Global Observatory, produced by IPI, provides timely analysis on peace and security issues, interviews with leading policymakers, interactive maps, and more.
Recent Events
August 25, 2014
High-Level Forum Examines Lessons of 1814 and 1914 for Today
2014 marks the centenary of the outbreak of World War One and the bicentenary of the opening of the Congress of Vienna–two dates that profoundly shaped the course of history.
August 05, 2014
Accra Meeting Examines Effective Governance in Challenging Environments
Despite undeniable progress, the continuous peace and security reverses witnessed across Africa illustrate the persistent gap that exists between aspirational good governance norms and principles and their actual implementation.
July 17, 2014
EU and UN Seek Ways to Improve Cooperation in Peacekeeping
The European Union is among the strongest supporters of UN peacekeeping missions around the globe, but the growing challenges faced by UN-led operations have raised the need for better EU-UN cooperation, both on the ground and at the planning level.
View More
Latest News