IPI Home › News › General Announcements › IPI Publishes New Book on Regulating Global Security Industry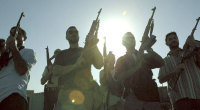 General Announcements - August 04, 2009
IPI Publishes New Book on Regulating Global Security Industry
IPI is pleased to announce its latest book, Beyond Market Forces: Regulating the Global Security Industry. This book is the latest in over 200 books and policy papers IPI has produced since 1998 as an integral part of its mission to inform international policymaking with cutting-edge research and analysis.
Authored by a research team led by James Cockayne, Beyond Market Forces articulates clear guidelines for the potential regulation of the global security industry in the near future and represents an accessible history of transnational regulatory frameworks going back to the 19th Century. It has both immediate relevance for policy makers and long-term value for scholars and will be of interest to practitioners, as well as to anyone interested in how global industries become subject to normative standards of various kinds.

Private military and security companies play an increasingly visible role in conflict and post-conflict situations. Properly regulated, they may offer efficient and responsive means for governments to deliver security in insecure environments. But well-publicized abuses suggest that an adequate regulatory framework is still urgently needed.

Over the last three years, IPI has played a key role in international efforts to develop innovative regulatory responses to the rise of the private security industry. IPI worked closely with seventeen states in the development and drafting of the Montreux Document, which was concluded in September 2008.

At the urging of some of the governments and industry actors engaged in the Montreux Process, IPI undertook a large, highly-consultative research project in 2008-2009 to examine models of state and market-based regulation in thirty global industries in order to assess their relevance for the global security industry.

The results of this study are now available in Beyond Market Forces.
The book surveys the existing state of national, international, and corporate-level regulation of the global security industry, including more than forty Codes of Conduct. It provides thirty case studies looking at frameworks for implementing and enforcing industry standards in other global industries, such as the extractive, textile, toy, toxic waste, financial, sporting, chemical, and even veterinary industries.

And it draws lessons from these industries specifically for the global security industry, identifying five different types of implementation and enforcement framework: a watchdog, an accreditation scheme, an arbitral tribunal, a harmonization scheme, and a club.

The results of this major IPI research project are also available for download as a 3-page policy brief containing the key policy recommendations, and as a 20-page policy report exploring these recommendations at more length.

Advance Praise for Beyond Market Forces

Comprehensive and clear. This isn't just a contribution to the debate - it is the debate. Entering this debate without reading this first would be foolhardy. The single clearest, most comprehensive study on the regulation of PMSCs I have seen in my five years at the British Association of Private Security Companies (BAPSC). I congratulate the authors.
--ANDREW BEARPARK, Director General, BAPSC

By examining various models of human rights regulation for other global industries, and assessing their strengths and limitations, James and his team draw valuable lessons for future initiatives. This book is the first to describe in such depth past and present efforts to develop human rights standards in this industry. In short, this is an extremely useful book that will be an essential tool for all those interested in improving regulation of the private military and security industry.

-- CHRISTOPHER AVERY, Director, Business & Human Rights Resource Centre

James Cockayne and his colleagues at IPI offer a thoughtful and thought-provoking insight into how standards implementation in other areas can and should shape discussion about regulation of this increasingly global industry [of private military and security companies]. It is essential reading for anyone interested in understanding this question, and should be the starting point for future attempts to answer it.

-- PROF. SIMON CHESTERMAN, Editor of "From Mercenaries to Market" and "Private Security, Public Order"

The conduct of [Private Military and Security] companies in a few sensational cases has raised fresh questions about regulatory oversight. Some have asserted that existing laws and voluntary codes are sufficient. This important and timely publication shows why that's not the case. Its framework, recommending how gaps
can be filled to ensure human rights protection, provides the road map the international community must follow, to end some of the worst human rights abuses of our time.
--SALIL TRIPATHI, Director, Human Rights Policy, The Institute for Human Rights and Business



The Global Observatory
Nelson Mandela: Man and Awesome Phenomenon
A former member of the South African Parliament reflects on Mandela's warmth and generosity.
Ordinary Fears, Extraordinary Man: The Legacy of Nelson Mandela
As a young South African diplomat during the apartheid-to-democracy transition, Cedric de Coning witnessed the humility and power of a flawed statesman.
Key Global Events to Watch in December
A list of key upcoming meetings and events with implications for global affairs.

Top 10 Issues to Watch in 2013: The Multilateral Arena
Ten key issues that are likely to impact global affairs in international peace, security, and development.
The Global Observatory, produced by IPI, provides timely analysis on peace and security issues, interviews with leading policymakers, interactive maps, and more.
Recent Events
December 02, 2013
Latin America Focus of Fourth ''Being a Peacekeeper'' Event
On December 2-3, IPI brought together 24 representatives from eleven Latin American countries with senior officials from the UN Department of Peacekeeping Operations and the Department of Field Support to discuss the current state—as well as the future—of Latin American military and police contributions to UN peacekeeping operations.
November 28, 2013
Energy and Security in the Arctic: A New "Frozen" Conflict?
Is the Arctic a "region of cooperation," or will competition for its potentially rich energy resources lead to conflict in the high north? This was the main question addressed during an expert workshop held in The Hague on November 28th by the International Peace Institute together with the International Gas Union and the Clingendael International Energy Programme.
November 22, 2013
Can Technology Play a Role in Drafting a Constitution?
The effects that new technologies can have on constitutional processes was the topic of this November 22nd IPI roundtable discussion. Approximately five new constitutions are written around the world every year, and their legitimacy is increasingly influenced by a new level of public participation in their drafting, not merely by a plebiscite on the final text. As rapidly advancing technology changes the way that governments and citizens interact, what role are new technologies playing in constitutions?
View More
Latest News