IPI Home › News › Israeli, Palestinian Leaders Debate Middle East Peace at IPI -- Q&A, Part 2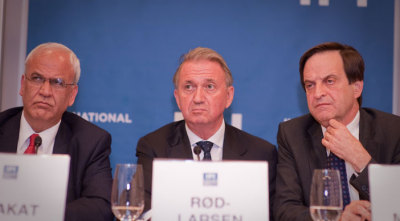 Multimedia Gallery - June 28, 2010
Israeli, Palestinian Leaders Debate Middle East Peace at IPI -- Q&A, Part 2
This is Part 3 of a 3-part video. This is the second half of the question-and-answer period.



 Part 1: Discussion (32:15)
With Saeb Erakat, Palestianian Chief Negotiator, and Dan Meridor, Israeli Deputy Prime Minister and Minister Responsible for Intelligence Services and the Atomic Energy Commission. Moderated by Terje Rød-Larsen, IPI President.



 Part 2: First half of the Q&A (27:20)

Read more about this event
The Global Observatory
Nelson Mandela: Man and Awesome Phenomenon
A former member of the South African Parliament reflects on Mandela's warmth and generosity.
Ordinary Fears, Extraordinary Man: The Legacy of Nelson Mandela
As a young South African diplomat during the apartheid-to-democracy transition, Cedric de Coning witnessed the humility and power of a flawed statesman.
Key Global Events to Watch in December
A list of key upcoming meetings and events with implications for global affairs.

Top 10 Issues to Watch in 2013: The Multilateral Arena
Ten key issues that are likely to impact global affairs in international peace, security, and development.
The Global Observatory, produced by IPI, provides timely analysis on peace and security issues, interviews with leading policymakers, interactive maps, and more.