IPI Home › News › Israeli, Palestinian Leaders Debate Middle East Peace at IPI -- Q&A, Part 2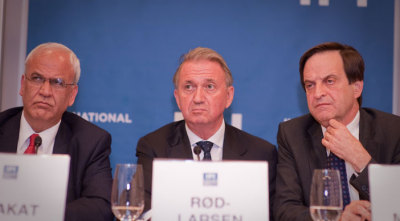 Multimedia Gallery - June 28, 2010
Israeli, Palestinian Leaders Debate Middle East Peace at IPI -- Q&A, Part 2
This is Part 3 of a 3-part video. This is the second half of the question-and-answer period.



 Part 1: Discussion (32:15)
With Saeb Erakat, Palestianian Chief Negotiator, and Dan Meridor, Israeli Deputy Prime Minister and Minister Responsible for Intelligence Services and the Atomic Energy Commission. Moderated by Terje Rød-Larsen, IPI President.



 Part 2: First half of the Q&A (27:20)

Read more about this event
The Global Observatory
Does Xi Jinping's Visit to India Signal a Shift in Sino-Indian Relations? Q&A with Hardeep Singh Puri
With Chinese President Jinping's first visit to India underway, the former Indian Permanent Representative to the UN discusses the future of Sino-Indian relations.
Key Global Events to Watch in September
A list of key upcoming meetings and events with implications for global affairs.
2014 Top 10 Issues to Watch in Peace & Security: The Global Arena
A list of ten key issues to watch that are likely to impact international peace and security in 2014, compiled by IPI's Francesco Mancini.
The Global Observatory, produced by IPI, provides timely analysis on peace and security issues, interviews with leading policymakers, interactive maps, and more.