IPI Home › Publications › Books
Books
IPI books include single-author monographs and multiauthor edited volumes. Over the past ten years IPI has published of some of the most recognized titles in the peace and security literature, including Ending Civil Wars, Greed and Grievance, The UN Security Council, and Building States to Build Peace. Most IPI books are products of in-house research programs and represent years of planning and study. Others are the products of partnerships with researchers and sister institutions around the world.
Page 1  |  2  |  3  |  4  |  5  |  6  |  7  |  8
79 Results
Content by Books & All Years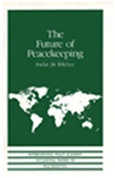 Books - June 15, 1989
Indar Jit Rikhye (International Peace Academy, 1989)


Books - October 15, 1978
Indar Jit Rikhye (Oxford & IBH Publishers, 1978)
The Global Observatory
Are Recent Prison Breaks in Nigeria Part of a Southward Expansion by Boko Haram?
Whoever is behind them, these prison breaks signal that Nigeria's authorities are struggling to maintain the rule of law, not just in the far northeast, but also in the Middle Belt and the southwest.
Key Global Events to Watch in December
A list of key upcoming meetings and events with implications for global affairs.
2014 Top 10 Issues to Watch in Peace & Security: The Global Arena
A list of ten key issues to watch that are likely to impact international peace and security in 2014, compiled by IPI's Francesco Mancini.
The Global Observatory, produced by IPI, provides timely analysis on peace and security issues, interviews with leading policymakers, interactive maps, and more.
Recent Events
December 09, 2014
Small States in a Multilateral World
Despite their size and limited resources, small states have an important and crucial role to play in the multilateral system and can leverage their power through cooperation.
December 02, 2014
Protecting Civilians in Armed Conflict: From Concept to Norm
Five years after the adoption of Security Council Resolution 1894, the concept of Protection of Civilians in Armed Conflict (PoC) has become a widely accepted norm at the UN, featuring more and more in Council mandates and becoming a cornerstone of UN missions on the ground.
November 27, 2014
Dialogue on Multilateralism Continues in Geneva
The Geneva launch of the Independent Commission on Multilateralism (ICM) took place on November 27th in the Palais de Nations, the UN headquarters in Geneva which used to be the seat of the League of Nations.
View More