IPI Home › Publications › Engaging Nonstate Armed Groups on the Protection of Children: Towards Strategic Complementarity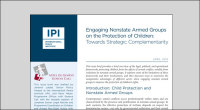 Policy Papers - April 18, 2012
Engaging Nonstate Armed Groups on the Protection of Children: Towards Strategic Complementarity
Jérémie Labbé, Reno Meyer
This issue brief provides an overview of the legal, political, and operational frameworks protecting children from the effects of armed conflict, notably from violations by nonstate armed groups. The UN Secretary-General has repeatedly emphasized the need to "more consistently and effectively engage non-State armed groups in order to improve their compliance with the law," including international human rights and international humanitarian law. This is of particular importance with regard to child protection as armed conflicts have far-reaching impacts on children, who are among the most vulnerable members of society.

The issue brief explores some of the limitations of these frameworks and their mechanisms, and discusses ways to maximize the comparative advantages of different actors when engaging nonstate armed groups to improve the protection of children's rights. 

In part of the conclusion, the authors write:

"A concerted and strategic use of complementary approaches, including those outside of the monitoring and reporting mechanism (MRM) framework, would contribute to improved protection of children from the effects of armed conflicts. Such "strategic complementarity" would help maximize the comparative advantages of each actor for different purposes: to overcome access problems, notably when the states concerned are opposed to the UN's engagement with nonstate armed groups; to develop specific responses tailored to the characteristics and sensitivities of each nonstate armed group; and to offer alternative approaches to overcoming nonstate armed groups' perceptions of some actors' bias in particular contexts. Such alternative approaches already exist but are seemingly overlooked in the MRM framework. Better interaction with actors operating outside the MRM would respond to the legitimate concerns of duplicating efforts and sending mixed messages on the applicable standards."
Publications Staff
Director of Research and Publications
lupel@ipinst.org
Editor and Research Fellow
oreilly@ipinst.org
The Global Observatory
History Points to Rough Road Ahead for Ukraine Peace Deal
Previous deals can help shed light on the future of Minsk II.
Key Global Events to Watch in February
A list of key upcoming meetings and events with implications for global affairs.
2015: Ten Multilateral Events to Watch This Year
A list of ten events that are likely to impact international peace and security in 2015, compiled by IPI's Francesco Mancini.
The Global Observatory, produced by IPI, provides timely analysis on peace and security issues, interviews with leading policymakers, interactive maps, and more.
Our Statement
IPI produces a variety of publications as an integral part of its mission to inform international policymaking with cutting-edge research and analysis. These range from major, multi-author studies to monographs, policy papers, and meeting notes. Since 1998, IPI has extended its reach with the publication of over 200 books, meeting notes, and policy papers that are widely cited by government and international officials, scholars and the media.