IPI Home › Publications › Policy Papers › Engaging Nonstate Armed Groups on the Protection of Children: Towards Strategic Complementarity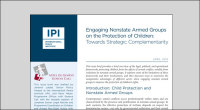 Policy Papers - April 18, 2012
Engaging Nonstate Armed Groups on the Protection of Children: Towards Strategic Complementarity
Jérémie Labbé, Reno Meyer
This issue brief provides an overview of the legal, political, and operational frameworks protecting children from the effects of armed conflict, notably from violations by nonstate armed groups. The UN Secretary-General has repeatedly emphasized the need to "more consistently and effectively engage non-State armed groups in order to improve their compliance with the law," including international human rights and international humanitarian law. This is of particular importance with regard to child protection as armed conflicts have far-reaching impacts on children, who are among the most vulnerable members of society.

The issue brief explores some of the limitations of these frameworks and their mechanisms, and discusses ways to maximize the comparative advantages of different actors when engaging nonstate armed groups to improve the protection of children's rights. 

In part of the conclusion, the authors write:

"A concerted and strategic use of complementary approaches, including those outside of the monitoring and reporting mechanism (MRM) framework, would contribute to improved protection of children from the effects of armed conflicts. Such "strategic complementarity" would help maximize the comparative advantages of each actor for different purposes: to overcome access problems, notably when the states concerned are opposed to the UN's engagement with nonstate armed groups; to develop specific responses tailored to the characteristics and sensitivities of each nonstate armed group; and to offer alternative approaches to overcoming nonstate armed groups' perceptions of some actors' bias in particular contexts. Such alternative approaches already exist but are seemingly overlooked in the MRM framework. Better interaction with actors operating outside the MRM would respond to the legitimate concerns of duplicating efforts and sending mixed messages on the applicable standards."
The Global Observatory

Déjà Vu in the Central African Republic as UN Looks to Intervene
The international community has a unique opportunity to learn from the past, rectify its missteps, and usher in lasting peace in CAR.
Key Global Events to Watch in December
A list of key upcoming meetings and events with implications for global affairs.

Top 10 Issues to Watch in 2013: The Multilateral Arena
Ten key issues that are likely to impact global affairs in international peace, security, and development.
The Global Observatory, produced by IPI, provides timely analysis on peace and security issues, interviews with leading policymakers, interactive maps, and more.
Recent Events
November 28, 2013
Energy and Security in the Arctic: A New "Frozen" Conflict?
Is the Arctic a "region of cooperation," or will competition for its potentially rich energy resources lead to conflict in the high north? This was the main question addressed during an expert workshop held in The Hague on November 28th by the International Peace Institute together with the International Gas Union and the Clingendael International Energy Programme.
November 22, 2013
Can Technology Play a Role in Drafting a Constitution?
The effects that new technologies can have on constitutional processes was the topic of this November 22nd IPI roundtable discussion. Approximately five new constitutions are written around the world every year, and their legitimacy is increasingly influenced by a new level of public participation in their drafting, not merely by a plebiscite on the final text. As rapidly advancing technology changes the way that governments and citizens interact, what role are new technologies playing in constitutions?
November 19, 2013
Haqqani: Pakistanis Need Honest Debate About Their Country
"We Pakistanis need an honest debate inside our country about what is Pakistan's national interest. We never have it," said Hussain Haqqani, a former Pakistani diplomat and journalist, who was at IPI on November 19th to give a presentation on his latest book, Magnificent Delusions: Pakistan, the United States, and an Epic History of Misunderstanding.
View More
Latest News