IPI Home › Publications › Policy Papers › Engaging Nonstate Armed Groups on the Protection of Children: Towards Strategic Complementarity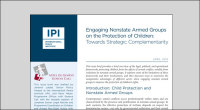 Policy Papers - April 18, 2012
Engaging Nonstate Armed Groups on the Protection of Children: Towards Strategic Complementarity
Jérémie Labbé, Reno Meyer
This issue brief provides an overview of the legal, political, and operational frameworks protecting children from the effects of armed conflict, notably from violations by nonstate armed groups. The UN Secretary-General has repeatedly emphasized the need to "more consistently and effectively engage non-State armed groups in order to improve their compliance with the law," including international human rights and international humanitarian law. This is of particular importance with regard to child protection as armed conflicts have far-reaching impacts on children, who are among the most vulnerable members of society.

The issue brief explores some of the limitations of these frameworks and their mechanisms, and discusses ways to maximize the comparative advantages of different actors when engaging nonstate armed groups to improve the protection of children's rights. 

In part of the conclusion, the authors write:

"A concerted and strategic use of complementary approaches, including those outside of the monitoring and reporting mechanism (MRM) framework, would contribute to improved protection of children from the effects of armed conflicts. Such "strategic complementarity" would help maximize the comparative advantages of each actor for different purposes: to overcome access problems, notably when the states concerned are opposed to the UN's engagement with nonstate armed groups; to develop specific responses tailored to the characteristics and sensitivities of each nonstate armed group; and to offer alternative approaches to overcoming nonstate armed groups' perceptions of some actors' bias in particular contexts. Such alternative approaches already exist but are seemingly overlooked in the MRM framework. Better interaction with actors operating outside the MRM would respond to the legitimate concerns of duplicating efforts and sending mixed messages on the applicable standards."
The Global Observatory
Dispatch to Brazil: Give Peace a Chance in the Post-2015 Development Agenda
Brazil is justifiably proud of its historical commitment to peace, yet there are signs that Brazil's forward momentum in promoting safety, security, justice, and governance is lagging.
Key Global Events to Watch in March
A list of key upcoming meetings and events with implications for global affairs.
2014 Top 10 Issues to Watch in Peace & Security: The Global Arena
A list of ten key issues to watch that are likely to impact international peace and security in 2014, compiled by IPI's Francesco Mancini.
The Global Observatory, produced by IPI, provides timely analysis on peace and security issues, interviews with leading policymakers, interactive maps, and more.
Recent Events
February 19, 2014
Gary Bass: Forgotten Genocide May Portend Future Stain on UN Inaction
The inability of the United Nations Security Council to halt mass atrocities in East Pakistan some 40 years ago has parallels to current inaction in North Korea, argued Gary Bass, a professor of politics and international affairs at Princeton University, on February 19th.
February 18, 2014
Jok: Near Collapse in South Sudan Is Shocking but Not Surprising
The events that recently brought South Sudan to a near collapse were "extremely shocking, but they were not surprising by any means," said Jok Madut Jok, Executive Director of The Sudd Institute, at the International Peace Institute on February 18. "It was only a matter of time before the country returned to this kind of situation," he added.
February 05, 2014
Because of Syria, UNHCR Promises "Biggest Change Ever"
To address the largest humanitarian crisis of the 21st century, the United Nations is conducting a major overhaul of its response to the refugee emergency brought on by the Syrian civil war, said Amin Awad, a senior official of the UN's refugee agency, UNHCR, at an IPI event on February 5th.
View More
Latest News
February 25, 2014
Video: Children and Armed Conflict
January 13, 2014
IPI's Francesco Mancini Discusses Syria and Crisis in the Middle East [Arise TV, skip ahead to minute 26]
December 03, 2013
IPI Editor Adam Lupel Quoted on the Politics of Genocide [IRIN News]
View More