IPI Home › Publications › Policy Papers › Engaging Nonstate Armed Groups on the Protection of Children: Towards Strategic Complementarity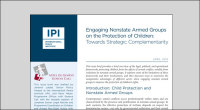 Policy Papers - April 18, 2012
Engaging Nonstate Armed Groups on the Protection of Children: Towards Strategic Complementarity
Jérémie Labbé, Reno Meyer
This issue brief provides an overview of the legal, political, and operational frameworks protecting children from the effects of armed conflict, notably from violations by nonstate armed groups. The UN Secretary-General has repeatedly emphasized the need to "more consistently and effectively engage non-State armed groups in order to improve their compliance with the law," including international human rights and international humanitarian law. This is of particular importance with regard to child protection as armed conflicts have far-reaching impacts on children, who are among the most vulnerable members of society.

The issue brief explores some of the limitations of these frameworks and their mechanisms, and discusses ways to maximize the comparative advantages of different actors when engaging nonstate armed groups to improve the protection of children's rights. 

In part of the conclusion, the authors write:

"A concerted and strategic use of complementary approaches, including those outside of the monitoring and reporting mechanism (MRM) framework, would contribute to improved protection of children from the effects of armed conflicts. Such "strategic complementarity" would help maximize the comparative advantages of each actor for different purposes: to overcome access problems, notably when the states concerned are opposed to the UN's engagement with nonstate armed groups; to develop specific responses tailored to the characteristics and sensitivities of each nonstate armed group; and to offer alternative approaches to overcoming nonstate armed groups' perceptions of some actors' bias in particular contexts. Such alternative approaches already exist but are seemingly overlooked in the MRM framework. Better interaction with actors operating outside the MRM would respond to the legitimate concerns of duplicating efforts and sending mixed messages on the applicable standards."
The Global Observatory
Can Election Winner Rousseff Mend a Divided Brazil?
President Rousseff's challenge will be to boost Brazil's economy while maintaining national unity.
Key Global Events to Watch in October
A list of key upcoming meetings and events with implications for global affairs.
2014 Top 10 Issues to Watch in Peace & Security: The Global Arena
A list of ten key issues to watch that are likely to impact international peace and security in 2014, compiled by IPI's Francesco Mancini.
The Global Observatory, produced by IPI, provides timely analysis on peace and security issues, interviews with leading policymakers, interactive maps, and more.
Recent Events
October 27, 2014
Peacekeeping and the OSCE
In response to the crisis in Ukraine, the Organization for Security and Cooperation in Europe (OSCE) deployed a Special Monitoring Mission (SMM) of some 250 civilian international observers.
October 09, 2014
Rethinking Women and Forced Migration
The drastic increase in conflicts around the globe has seen the world's displaced population pass 55 million people, and the fact that 80% of them are women and children is prompting many to rethink how the international community is responding.
October 09, 2014
Africa: China's Second Continent
Speaking at an IPI Distinguished Author Series event on October 9th, author Howard French made a case for how Western underestimation of Africa's economic promise has enabled China to establish an economic and human presence on the continent, leading to the permanent migration there of nearly 2 million Chinese.
View More