IPI Home › Publications › Policy Papers › Aid Effectiveness in Fragile States: Lessons from the First Generation of Transition Compacts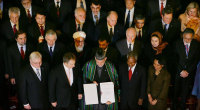 Policy Papers - April 19, 2012
Aid Effectiveness in Fragile States: Lessons from the First Generation of Transition Compacts
Christina Bennett
The policy report draws lessons-learned for the UN and others from the first generation of transition compacts in support of postconflict peacebuilding, focusing on case studies from Afghanistan, the DRC, Iraq, Liberia, and Timor-Leste.

It finds that transition compacts can be effective but their effectiveness has been mixed. In order to improve their effectiveness the report makes the following recommendations among others:

• Compacts should be considered only when a peace accord is agreed upon and where basic security is in place.  
• Civil society should be given the opportunity to participate in both compact creation and implementation. 
• Compact commitments should be specific, balanced, and focused on short timelines.
• Compacts should reinforce and coordinate with ongoing international and  national processes. 
• Compacts should include specific mechanisms for implementation, oversight, and enforcement, with host governments in the lead.

The report also recommends that the UN among other things should:
• continue to support transition compacts and should continue to work with the OECD-DAC INCAF to support the provisions in its guidance on transition financing;
• improve its technical support for compact development, implementation, and capacity building;
• improve mechanisms for ensuring the timeliness and flexibility of transition support by donors, including through global and country-level pooled funds; and
• work with host governments to strengthen capacity building and work with donors and IFIs to improve donor coordination.

The report is the result of a collaborative effort between IPI and the UN, with substantive input from the OECD-DAC Secretariat of the International Network on Conflict and Fragility (INCAF).

A seminar called "Transition Compacts: Lessons from UN Experiences" was hosted by IPI in November 2011, and the resulting meeting note can be found here.
The Global Observatory
Aid Workers, More on the Front Lines, Suffer Increased Attacks: Interview with Abby Stoddard
Aid worker attacks were at their highest levels last year.
Key Global Events to Watch in March
A list of key upcoming meetings and events with implications for global affairs.
2014 Top 10 Issues to Watch in Peace & Security: The Global Arena
A list of ten key issues to watch that are likely to impact international peace and security in 2014, compiled by IPI's Francesco Mancini.
The Global Observatory, produced by IPI, provides timely analysis on peace and security issues, interviews with leading policymakers, interactive maps, and more.
Recent Events
February 26, 2014
Roméo Dallaire: Neutralize Child Soldiers Without Destroying Them
"We believe that by better training both police and military and a whole new dimension of working much closer, particularly information-wise, with NGOs and other agencies on the ground, we can work at neutralizing without destroying children as a system of weaponry in this era," said Lt. General Roméo Dallaire (Ret.) at an IPI event on February 26th.
February 19, 2014
Gary Bass: Forgotten Genocide May Portend Future Stain on UN Inaction
The inability of the United Nations Security Council to halt mass atrocities in East Pakistan some 40 years ago has parallels to current inaction in North Korea, argued Gary Bass, a professor of politics and international affairs at Princeton University, on February 19th.
February 18, 2014
Jok: Near Collapse in South Sudan Is Shocking but Not Surprising
The events that recently brought South Sudan to a near collapse were "extremely shocking, but they were not surprising by any means," said Jok Madut Jok, Executive Director of The Sudd Institute, at the International Peace Institute on February 18. "It was only a matter of time before the country returned to this kind of situation," he added.
View More
Latest News