IPI Home › Publications › Policy Papers › Aid Effectiveness in Fragile States: Lessons from the First Generation of Transition Compacts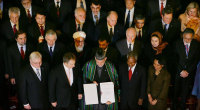 Policy Papers - April 19, 2012
Aid Effectiveness in Fragile States: Lessons from the First Generation of Transition Compacts
Christina Bennett
The policy report draws lessons-learned for the UN and others from the first generation of transition compacts in support of postconflict peacebuilding, focusing on case studies from Afghanistan, the DRC, Iraq, Liberia, and Timor-Leste.

It finds that transition compacts can be effective but their effectiveness has been mixed. In order to improve their effectiveness the report makes the following recommendations among others:

• Compacts should be considered only when a peace accord is agreed upon and where basic security is in place.  
• Civil society should be given the opportunity to participate in both compact creation and implementation. 
• Compact commitments should be specific, balanced, and focused on short timelines.
• Compacts should reinforce and coordinate with ongoing international and  national processes. 
• Compacts should include specific mechanisms for implementation, oversight, and enforcement, with host governments in the lead.

The report also recommends that the UN among other things should:
• continue to support transition compacts and should continue to work with the OECD-DAC INCAF to support the provisions in its guidance on transition financing;
• improve its technical support for compact development, implementation, and capacity building;
• improve mechanisms for ensuring the timeliness and flexibility of transition support by donors, including through global and country-level pooled funds; and
• work with host governments to strengthen capacity building and work with donors and IFIs to improve donor coordination.

The report is the result of a collaborative effort between IPI and the UN, with substantive input from the OECD-DAC Secretariat of the International Network on Conflict and Fragility (INCAF).

A seminar called "Transition Compacts: Lessons from UN Experiences" was hosted by IPI in November 2011, and the resulting meeting note can be found here.
The Global Observatory

Déjà Vu in the Central African Republic as UN Looks to Intervene
The international community has a unique opportunity to learn from the past, rectify its missteps, and usher in lasting peace in CAR.
Key Global Events to Watch in December
A list of key upcoming meetings and events with implications for global affairs.

Top 10 Issues to Watch in 2013: The Multilateral Arena
Ten key issues that are likely to impact global affairs in international peace, security, and development.
The Global Observatory, produced by IPI, provides timely analysis on peace and security issues, interviews with leading policymakers, interactive maps, and more.
Recent Events
November 28, 2013
Energy and Security in the Arctic: A New "Frozen" Conflict?
Is the Arctic a "region of cooperation," or will competition for its potentially rich energy resources lead to conflict in the high north? This was the main question addressed during an expert workshop held in The Hague on November 28th by the International Peace Institute together with the International Gas Union and the Clingendael International Energy Programme.
November 22, 2013
Can Technology Play a Role in Drafting a Constitution?
The effects that new technologies can have on constitutional processes was the topic of this November 22nd IPI roundtable discussion. Approximately five new constitutions are written around the world every year, and their legitimacy is increasingly influenced by a new level of public participation in their drafting, not merely by a plebiscite on the final text. As rapidly advancing technology changes the way that governments and citizens interact, what role are new technologies playing in constitutions?
November 19, 2013
Haqqani: Pakistanis Need Honest Debate About Their Country
"We Pakistanis need an honest debate inside our country about what is Pakistan's national interest. We never have it," said Hussain Haqqani, a former Pakistani diplomat and journalist, who was at IPI on November 19th to give a presentation on his latest book, Magnificent Delusions: Pakistan, the United States, and an Epic History of Misunderstanding.
View More
Latest News