IPI Home › Publications › Policy Papers › Aid Effectiveness in Fragile States: Lessons from the First Generation of Transition Compacts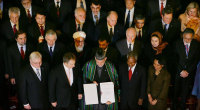 Policy Papers - April 19, 2012
Aid Effectiveness in Fragile States: Lessons from the First Generation of Transition Compacts
Christina Bennett
The policy report draws lessons-learned for the UN and others from the first generation of transition compacts in support of postconflict peacebuilding, focusing on case studies from Afghanistan, the DRC, Iraq, Liberia, and Timor-Leste.

It finds that transition compacts can be effective but their effectiveness has been mixed. In order to improve their effectiveness the report makes the following recommendations among others:

• Compacts should be considered only when a peace accord is agreed upon and where basic security is in place.  
• Civil society should be given the opportunity to participate in both compact creation and implementation. 
• Compact commitments should be specific, balanced, and focused on short timelines.
• Compacts should reinforce and coordinate with ongoing international and  national processes. 
• Compacts should include specific mechanisms for implementation, oversight, and enforcement, with host governments in the lead.

The report also recommends that the UN among other things should:
• continue to support transition compacts and should continue to work with the OECD-DAC INCAF to support the provisions in its guidance on transition financing;
• improve its technical support for compact development, implementation, and capacity building;
• improve mechanisms for ensuring the timeliness and flexibility of transition support by donors, including through global and country-level pooled funds; and
• work with host governments to strengthen capacity building and work with donors and IFIs to improve donor coordination.

The report is the result of a collaborative effort between IPI and the UN, with substantive input from the OECD-DAC Secretariat of the International Network on Conflict and Fragility (INCAF).

A seminar called "Transition Compacts: Lessons from UN Experiences" was hosted by IPI in November 2011, and the resulting meeting note can be found here.
The Global Observatory
Key Global Events to Watch in September
A list of key upcoming meetings and events with implications for global affairs.
2014 Top 10 Issues to Watch in Peace & Security: The Global Arena
A list of ten key issues to watch that are likely to impact international peace and security in 2014, compiled by IPI's Francesco Mancini.
The Global Observatory, produced by IPI, provides timely analysis on peace and security issues, interviews with leading policymakers, interactive maps, and more.
Recent Events
August 25, 2014
High-Level Forum Examines Lessons of 1814 and 1914 for Today
2014 marks the centenary of the outbreak of World War One and the bicentenary of the opening of the Congress of Vienna–two dates that profoundly shaped the course of history.
August 05, 2014
Accra Meeting Examines Effective Governance in Challenging Environments
Despite undeniable progress, the continuous peace and security reverses witnessed across Africa illustrate the persistent gap that exists between aspirational good governance norms and principles and their actual implementation.
July 17, 2014
EU and UN Seek Ways to Improve Cooperation in Peacekeeping
The European Union is among the strongest supporters of UN peacekeeping missions around the globe, but the growing challenges faced by UN-led operations have raised the need for better EU-UN cooperation, both on the ground and at the planning level.
View More
Latest News