IPI Home › Topics › Peacekeeping
Peacekeeping
FILTER TOPIC BY:
Page 11  | 
107 Results
Books - October 15, 1993
Military Adviser to the Secretary General: U.N. Peacekeeping and the Congo Crisis
This publication follows the tortuous course of events throughout the Congo during the four turbulent years following its independence in 1960, and presents a vivid portrayal of the leading participants in the Congo imbroglio.  

Books - September 15, 1992
The Wave of the Future: The United Nations and Naval Peacekeeping
Though the United Nations will face numerous challenges on the world's oceans in the next decades, it has not yet developed the capability to operate effectively in the areas of maritime peacekeeping or enforcement.

Books - April 15, 1992
United Nations Peacekeeping and the Non-Use of Force
The principle of non-use of force except in self-defence is central to the concept of UN peacekeeping.

Books - October 15, 1991
Soldiers, Peacekeepers and Disasters
This book calls attention to the stark reality that international relief efforts are frequently threatened, despite international conventions and widespread public opinion, by the same lack of security that produces the need for such aid in the first place. 
Books - June 16, 1990
The United Nations and Peacekeeping: Results, Limitations and Prospects
The 1988 Nobel Peace Prize has thrown into sharp relief the significant role United Nations' peacekeepers have played on the international stage since the first operation 40 years ago.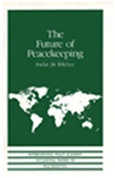 Books - June 15, 1989
Peacekeeping may not always lead to a negotiated sttlement of disputes, but it does succeed in halting the figthting, which provides valuable time for negotiations to resume. 

Books - June 15, 1984
The Theory and Practice of Peacekeeping
In the search for peace, a great deal is talked about disarmaments, but the crucial work of preventing wars is done by a few thousand world "policemen." 
The Global Observatory
Year in Review: Top 10 Peace and Security Reads
The International Peace Institute and its Global Observatory offered research and analysis on a range of topics in peace and security in 2014.
Key Global Events to Watch in December
A list of key upcoming meetings and events with implications for global affairs.
2014 Top 10 Issues to Watch in Peace & Security: The Global Arena
A list of ten key issues to watch that are likely to impact international peace and security in 2014, compiled by IPI's Francesco Mancini.
The Global Observatory, produced by IPI, provides timely analysis on peace and security issues, interviews with leading policymakers, interactive maps, and more.