IPI Home › Topics › Armed Conflict
Armed Conflict
FILTER TOPIC BY:
Page 11  |  12  |  13  |  14  |  15  |  16  | 
158 Results

Books - October 15, 1992
Political Order in Post-Communist Afghanistan
This monograph provides a detailed account of the collapse of the communist regime in Afghanistan and considers steps that can be taken to consolidate post-communist rule.

Books - September 15, 1992
The Wave of the Future: The United Nations and Naval Peacekeeping
Though the United Nations will face numerous challenges on the world's oceans in the next decades, it has not yet developed the capability to operate effectively in the areas of maritime peacekeeping or enforcement.

Books - April 15, 1992
United Nations Peacekeeping and the Non-Use of Force
The principle of non-use of force except in self-defence is central to the concept of UN peacekeeping.

Books - October 15, 1991
Soldiers, Peacekeepers and Disasters
This book calls attention to the stark reality that international relief efforts are frequently threatened, despite international conventions and widespread public opinion, by the same lack of security that produces the need for such aid in the first place. 
Books - June 16, 1990
The United Nations and Peacekeeping: Results, Limitations and Prospects
The 1988 Nobel Peace Prize has thrown into sharp relief the significant role United Nations' peacekeepers have played on the international stage since the first operation 40 years ago.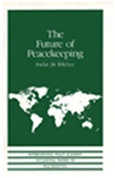 Books - June 15, 1989
Peacekeeping may not always lead to a negotiated sttlement of disputes, but it does succeed in halting the figthting, which provides valuable time for negotiations to resume. 

Books - June 15, 1984
The Theory and Practice of Peacekeeping
In the search for peace, a great deal is talked about disarmaments, but the crucial work of preventing wars is done by a few thousand world "policemen." 

Books - October 15, 1978
The history of the Middle East since World War I is a recapitulation of blunders - blunders which caused and prolonged the turmoil and bloodshed of the past 60 years, blunders by the great powers, by the Arabs and the Jews. 
The Global Observatory

Mandela, Pan-African Prophet
Adekeye Adebajo writes that Mandela's legacy will be his export of the pan-African spirit of ubuntu: the gift of discovering our shared humanity.

How Mandela's Relentless Diplomacy Transformed South Africa
Former US Ambassador John Hirsch traces the path of Mandela's relentless diplomacy.
Key Global Events to Watch in December
A list of key upcoming meetings and events with implications for global affairs.

Top 10 Issues to Watch in 2013: The Multilateral Arena
Ten key issues that are likely to impact global affairs in international peace, security, and development.
The Global Observatory, produced by IPI, provides timely analysis on peace and security issues, interviews with leading policymakers, interactive maps, and more.
Latest News