IPI Home › Topics › Armed Conflict
Armed Conflict
FILTER TOPIC BY:
Page 1  |  2  |  3  |  4  |  5  |  6  |  7  |  8  |  9  |  10
165 Results
Meeting Notes - March 01, 2007
The AU in Sudan: Lessons for the African Standby Force
This report stems from the discussions held among more than fifty senior police and military officers from African countries and partner nations and organizations at a seminar in Accra, Ghana, from October 10-12, 2006.
Meeting Notes - February 28, 2007
Seminar on Integrated Peacebuilding Strategies
In cooperation with the Peacebuilding Support Office (PBSO), the International Peace Institute and the Center on International Cooperation (CIC) organized an informal seminar on integrated peacebuilding strategies on March 1, 2007, in New York.
Policy Papers - February 14, 2007
The Middle East: Fragility and Crisis
In the coming five to ten years, the highest number of key global security challenges is likely to be concentrated in the Middle East, or be related to it.

Policy Papers - September 15, 2006
Development and Security in the Pacific Island Region
Pacific Island states face serious challenges and dilemmas, as a series of crises in the region indicate. Across the region, countries struggle with significant problems of state capacity, including poor leadership, poor governance and weak links between state institutions and community life and values.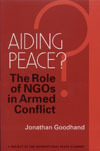 Books - September 14, 2006
Aiding Peace? The Role of NGOs in Armed Conflict
As nongovernmental organizations (NGOs) play a growing role in the international response to armed conflict tasked with mitigating the effects of war and helping to end the violence, there is an acute need for information on the impact they are actually having.

Books - July 14, 2006
The Democratic Republic of Congo: Economic Dimensions of War and Peace
 Despite the prominent role that competition over natural resources has played in some of Africa's most intractable conflicts, little research has been devoted to what the economic dimensions of armed conflict mean for peace operations and efforts to reconstruct war-torn states.
Meeting Notes - July 07, 2006
L'Union européenne en Afrique: Un partenaire stratégique dans les opérations de paix
Le séminaire GCSP-IPA a abordé ces questions au cours de quatre sessions:

Books - April 14, 2006
Kashmir: New Voices, New Approaches
Uniquely representing all sides in the conflict over Kashmir, this innovative new book provides a forum for discussion not only of existing proposals for ending the conflict, but also of possible new paths toward settlement.

Policy Papers - February 14, 2006
Security-Development Nexus: Research Findings and Policy Implications, Security-Development Nexus Program Report
The necessity of linking security and development has become a policy mantra. This is a welcome development after the deliberate bifurcation of development and security policies during the Cold War.
The Global Observatory
Year in Review: Top 10 Peace and Security Reads
The International Peace Institute and its Global Observatory offered research and analysis on a range of topics in peace and security in 2014.
Key Global Events to Watch in December
A list of key upcoming meetings and events with implications for global affairs.
2014 Top 10 Issues to Watch in Peace & Security: The Global Arena
A list of ten key issues to watch that are likely to impact international peace and security in 2014, compiled by IPI's Francesco Mancini.
The Global Observatory, produced by IPI, provides timely analysis on peace and security issues, interviews with leading policymakers, interactive maps, and more.