IPI Home › Topics › UN Security Council
UN Security Council
FILTER TOPIC BY:
Books - June 15, 2001
Just War or Just Peace? Humanitarian Intervention and International Law
This book critically examines the right of humanitarian intervention, asserted most spectacularly by NATO during its 1999 air strikes over Kosovo.
Books - November 05, 1998
Decision-Making in the UN Security Council: The Case of Haiti
This unique and intriguing study examines how and why the UN Security Council took its decisions on Haiti, including authorization in July 1994 of the use of force by a US-led multinational coalition against the de facto regime.
Books - March 15, 1994
Aftermath of the Gulf War: An Assessment of UN Action
Security Council Resolution 687, the Gulf War "cease-fire resolution" is in many respects a milestone with regard to the UN's evolving role in the maintenance of international peace and security.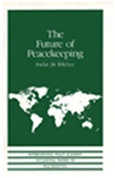 Books - June 15, 1989
Peacekeeping may not always lead to a negotiated sttlement of disputes, but it does succeed in halting the figthting, which provides valuable time for negotiations to resume. 
The Global Observatory
India-US Cooperation Grows With Obama Visit
The visit is particularly important for efforts related to stability and security in the Asia-Pacific and Indian Ocean regions.
Key Global Events to Watch in January
A list of key upcoming meetings and events with implications for global affairs.
2015: Ten Multilateral Events to Watch This Year
A list of ten events that are likely to impact international peace and security in 2015, compiled by IPI's Francesco Mancini.
The Global Observatory, produced by IPI, provides timely analysis on peace and security issues, interviews with leading policymakers, interactive maps, and more.