IPI Home › Topics › UN Security Council
UN Security Council
FILTER TOPIC BY:
Meeting Notes - April 08, 2007
Security Council Counter-Terrorism Review Project
On April 9, 2007, the International Peace Institute and the Center on Global Counterterrorism Cooperation (CGCTC) convened the first of two expert workshops in New York aimed at providing independent, comprehensive assessments of the United Nations Security Council's overall counterterrorism contributions since 2001.
Books - October 13, 2006
The Iraq Crisis and World Order: Structural, Institutional and Normative Challenges
The Iraq war was a multiple assault on the foundations and rules of the existing UN-centered world order.
Books - August 13, 2006
The International Struggle Over Iraq: Politics in the UN Security Council, 1980-2005
Drawing on unparalleled access to UN insiders, this book is essential to understanding the various roles played by the world's central peace-making forum in one of the most persistent crises in international affairs.
Meeting Notes - February 13, 2005
Managing Nuclear Threats after Iraq
The workshop addressed nonproliferation policies and trends in Iraq.
Books - July 13, 2004
The UN Security Council: From the Cold War to the 21st Century
Encyclopedic in scope and authoritative in analysis. Everyone who cares about the future role of the United Nations and the international rule of law will want to read this book. -- John G. Ruggie, Harvard University
Books - June 15, 2001
Just War or Just Peace? Humanitarian Intervention and International Law
This book critically examines the right of humanitarian intervention, asserted most spectacularly by NATO during its 1999 air strikes over Kosovo.
Books - November 05, 1998
Decision-Making in the UN Security Council: The Case of Haiti
This unique and intriguing study examines how and why the UN Security Council took its decisions on Haiti, including authorization in July 1994 of the use of force by a US-led multinational coalition against the de facto regime.
Books - March 15, 1994
Aftermath of the Gulf War: An Assessment of UN Action
Security Council Resolution 687, the Gulf War "cease-fire resolution" is in many respects a milestone with regard to the UN's evolving role in the maintenance of international peace and security.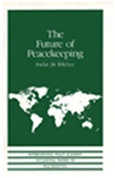 Books - June 15, 1989
Peacekeeping may not always lead to a negotiated sttlement of disputes, but it does succeed in halting the figthting, which provides valuable time for negotiations to resume. 
The Global Observatory
Beyond the Violence in the Central African Republic, A Pact for Peace?
A "republican pact" signed by the leaders in CAR in early November could be an additional tool for promoting a nonviolent way forward for the fractured nation.
Key Global Events to Watch in December
A list of key upcoming meetings and events with implications for global affairs.

Top 10 Issues to Watch in 2013: The Multilateral Arena
Ten key issues that are likely to impact global affairs in international peace, security, and development.
The Global Observatory, produced by IPI, provides timely analysis on peace and security issues, interviews with leading policymakers, interactive maps, and more.