IPI Home › Topics › UN Security Council
UN Security Council
FILTER TOPIC BY:
1 Results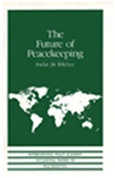 Books - June 15, 1989
Peacekeeping may not always lead to a negotiated sttlement of disputes, but it does succeed in halting the figthting, which provides valuable time for negotiations to resume. 
The Global Observatory
Can Machines Learn to Predict a Violent Conflict?
Machine learning is poised to help with the basic operational challenge of developing early warning systems: processing and analyzing data.
Key Global Events to Watch in December
A list of key upcoming meetings and events with implications for global affairs.

Top 10 Issues to Watch in 2013: The Multilateral Arena
Ten key issues that are likely to impact global affairs in international peace, security, and development.
The Global Observatory, produced by IPI, provides timely analysis on peace and security issues, interviews with leading policymakers, interactive maps, and more.
Latest News