IPI Home › Topics › Institutions
Institutions
FILTER TOPIC BY:
Page 11  |  12  |  13  |  14  |  15  |  16  |  17  | 
164 Results
Books - March 15, 1994
Aftermath of the Gulf War: An Assessment of UN Action
Security Council Resolution 687, the Gulf War "cease-fire resolution" is in many respects a milestone with regard to the UN's evolving role in the maintenance of international peace and security.

Books - September 15, 1992
The Wave of the Future: The United Nations and Naval Peacekeeping
Though the United Nations will face numerous challenges on the world's oceans in the next decades, it has not yet developed the capability to operate effectively in the areas of maritime peacekeeping or enforcement.

Books - February 15, 1992
The United Nations in a Turbulent World
In a turbulent world of restless publics, faltering economies, widening cleavages, and vast international transformations, where does the United nations fit?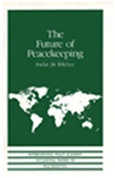 Books - June 15, 1989
Peacekeeping may not always lead to a negotiated sttlement of disputes, but it does succeed in halting the figthting, which provides valuable time for negotiations to resume. 
The Global Observatory
Beyond the Violence in the Central African Republic, A Pact for Peace?
A "republican pact" signed by the leaders in CAR in early November could be an additional tool for promoting a nonviolent way forward for the fractured nation.
Key Global Events to Watch in December
A list of key upcoming meetings and events with implications for global affairs.

Top 10 Issues to Watch in 2013: The Multilateral Arena
Ten key issues that are likely to impact global affairs in international peace, security, and development.
The Global Observatory, produced by IPI, provides timely analysis on peace and security issues, interviews with leading policymakers, interactive maps, and more.