Page 1  |  2  |  3  |  4  |  5  |  6  |  7  |  8  |  9
90 Results


Policy Papers - July 12, 2000
An Assessment of the OAU Mechanism for Conflict Prevention, Management, and Resolution, 1993-2000
An assessment of the Mechanism, which was informed by the now completed OAU/IPA Joint Task Force on Peacemaking and Peacekeeping in Africa.
Books - June 15, 2000
The Sanctions Decade: Assessing UN Strategies in the 1990s
This book, based on more than two hundred interviews with officials from the UN and sanctioned countries, and other involved actors, provides the first comprehensive assessment of the effectiveness of UN sanctions during the 1990s.
Books - November 05, 1998
Decision-Making in the UN Security Council: The Case of Haiti
This unique and intriguing study examines how and why the UN Security Council took its decisions on Haiti, including authorization in July 1994 of the use of force by a US-led multinational coalition against the de facto regime.

Books - August 15, 1994
Presiding Over a Divided UN Roles, 1945-1993
Challenging views that have gained currency since the end of the Cold War, this study examines the history of the United Nations since 1945, its various roles in international relations and its approaches to peace-keeping and the use of force.
Books - March 15, 1994
Aftermath of the Gulf War: An Assessment of UN Action
Security Council Resolution 687, the Gulf War "cease-fire resolution" is in many respects a milestone with regard to the UN's evolving role in the maintenance of international peace and security.

Books - September 15, 1992
The Wave of the Future: The United Nations and Naval Peacekeeping
Though the United Nations will face numerous challenges on the world's oceans in the next decades, it has not yet developed the capability to operate effectively in the areas of maritime peacekeeping or enforcement.

Books - February 15, 1992
The United Nations in a Turbulent World
In a turbulent world of restless publics, faltering economies, widening cleavages, and vast international transformations, where does the United nations fit?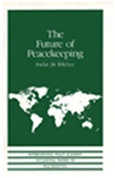 Books - June 15, 1989
Peacekeeping may not always lead to a negotiated sttlement of disputes, but it does succeed in halting the figthting, which provides valuable time for negotiations to resume. 
The Global Observatory
Year in Review: Top 10 Peace and Security Reads
The International Peace Institute and its Global Observatory offered research and analysis on a range of topics in peace and security in 2014.
Key Global Events to Watch in December
A list of key upcoming meetings and events with implications for global affairs.
2014 Top 10 Issues to Watch in Peace & Security: The Global Arena
A list of ten key issues to watch that are likely to impact international peace and security in 2014, compiled by IPI's Francesco Mancini.
The Global Observatory, produced by IPI, provides timely analysis on peace and security issues, interviews with leading policymakers, interactive maps, and more.