2 Results
Policy Papers - September 15, 1989
The Financing of United Nations Peacekeeping Operations: The Need for a Sound Financial Basis
Contrary to the general perception, not all United Nations peacekeeping operations are financed by special arrangements separate and distinct from those of the Organization's ordinary expenses under its regular budget.  In fact, of the seventeen peacekeeping operations initiated by the United Nations during its forty-four year history, six were or are being financed from the United Nations regular budget.  If only for that reason - there are other reasons as well - the Organization's capacity to maintain its peacekeeping operations is profoundly affected by the financial "health" of the United Nations in respect of the regular budget.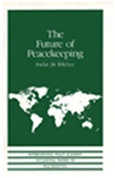 Books - June 15, 1989
Peacekeeping may not always lead to a negotiated sttlement of disputes, but it does succeed in halting the figthting, which provides valuable time for negotiations to resume. 
The Global Observatory
Year in Review: Top 10 Peace and Security Reads
The International Peace Institute and its Global Observatory offered research and analysis on a range of topics in peace and security in 2014.
Key Global Events to Watch in December
A list of key upcoming meetings and events with implications for global affairs.
2014 Top 10 Issues to Watch in Peace & Security: The Global Arena
A list of ten key issues to watch that are likely to impact international peace and security in 2014, compiled by IPI's Francesco Mancini.
The Global Observatory, produced by IPI, provides timely analysis on peace and security issues, interviews with leading policymakers, interactive maps, and more.