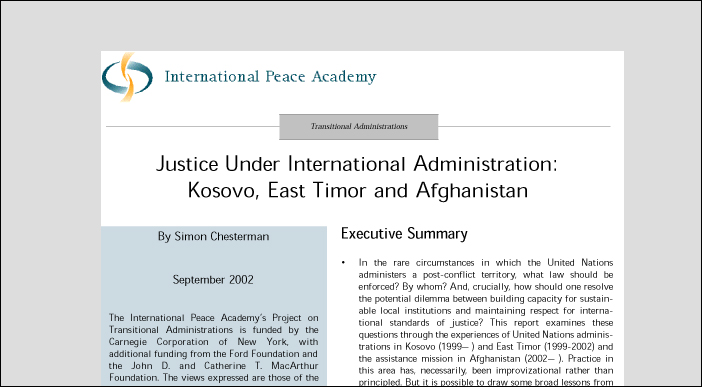 This report emerged from the Transitional Administrations Project, comparing the UN's judicial reconstruction efforts in Kosovo, East Timor, and Afghanistan.
In the rare circumstances in which the United Nations administers a postconflict territory, what law should be enforced? By whom? And, crucially, how should one resolve the potential dilemma between building capacity for sustainable local institutions and maintaining respect for international standards of justice? This report examines these questions through the experiences of United Nations administrations in Kosovo (1999— ) and East Timor (1999-2002) and the assistance mission in Afghanistan (2002— ). Practice in this area has, necessarily, been improvizational rather than principled.
But it is possible to draw some broad lessons from these three experiments in judicial reconstruction. First, the administration of justice should rank among the higher priorities of a postconflict peace operation––certainly far higher than it is currently ranked in Afghanistan. Second, in an immediate postconflict environment lacking a functioning law enforcement and judicial system, rule of law functions may have to be entrusted to military personnel on a temporary basis. Third, once the security environment allows the process of civil reconstruction to begin, sustainability should generally take precedence over temporary standards in the administration of basic law and order.