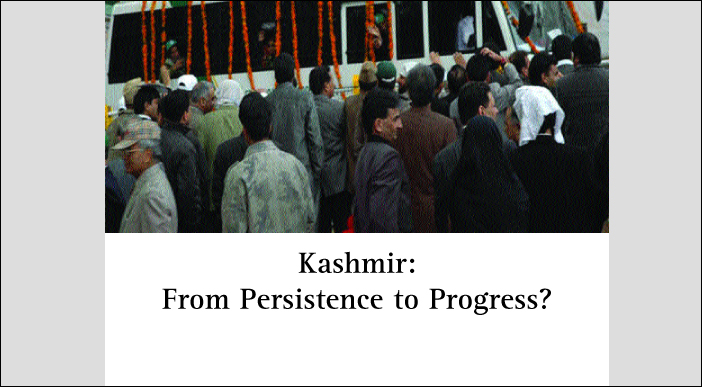 From the Executive Summary: Jammu and Kashmir (J&K) has been a continual bone of contention, the object of three wars and a theater of engagement in a fourth war, between the two countries.
Since 1989, insurgency has consumed Indian-administered Jammu and Kashmir (IJK), claiming at least 45,000 lives.
All major attempts at resolution by the international community have failed, including those through the United Nations. With overt "nuclearization" by India and Pakistan in 1998, and with "jihadist" militants playing an increasingly prominent role in the insurgency since the mid-1990s, the Kashmir conflict also bears the marks of a distinctly twenty-first century security predicament.
The revitalized peace process between India and Pakistan has piqued hopes about the prospects of resolving the Kashmir conflict. A number of tangible developments have provided grounds for some optimism.
But the opportunity could easily fade if the sources of the Kashmir conflict's intractability are not addressed. For both India and Pakistan, political engagement has been either desultory or weak and has provided little strategic guidance. Kashmiri separatists suffer from political fragmentation, partly due to interference by New Delhi and Islamabad, partly due to local-level political gamesmanship.
Addressing the sources of intractability is necessary to build a foundation for durable peace. New Delhi and Islamabad will have to come to terms with the legitimacy of separatist and independence demands. On the IJK–New Delhi axis, checks and balances institutions would have to be fashioned to guarantee provisions restoring IJK's autonomy. Such institutions may also be necessary to deal with communal tensions at the district level within IJK. India and Pakistan should consider verification mechanisms to overcome their mutual distrust, allow for Indian troop withdrawal, and verify a proactive Pakistani clampdown on militants in AJK. International actors can assist by increasing the pool of resources contributing to a peace dividend, especially by investing in transportation and local agriculture and industrial development.