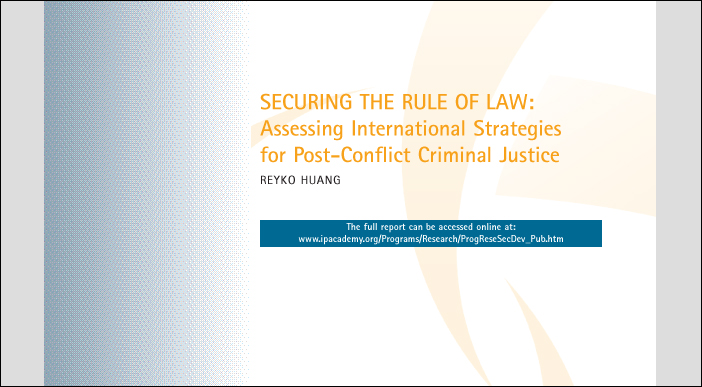 The past dozen years have seen a proliferation of international efforts to strengthen national criminal justice systems in postconflict countries. Part of the burgeoning of discourses, policies, and programs
on the primacy of the rule of law in peacebuilding, these efforts are based on the principle that the restoration of law and order in the immediate aftermath of conflict is critical for building a durable peace.
The UN Secretary-General encapsulated this growing importance of the rule of law in a 2004 report, in which he also stressed the need to develop strong national criminal justice systems for the administration of justice in accordance with international standards.
Although the imperative of promptly responding to dysfunctional or collapsed justice systems is widely acknowledged, the yield of programming in this area is patchy at best.
International programs are often cited for their focus on particular institutions at the neglect of others, thus failing to take into account the inherent interdependence of the various institutions that collectively enable a criminal justice system to function. Unfortunately, as a number of countries have attested, the absence of a functioning justice system and a breakdown of the rule of law can prolong periods of instability and threaten the prospects for peace. In reviewing current innovations as well as deficiencies in postconflict criminal justice reform policy and practice, this report emphasizes the need for more coherent, comprehensive approaches on the part of international actors.