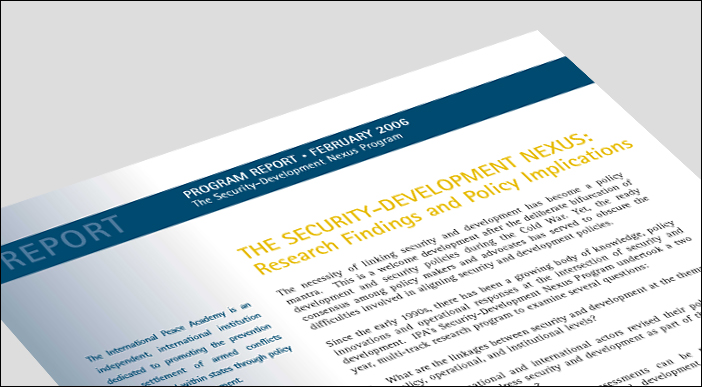 The necessity of linking security and development has become a policy mantra. This is a welcome development after the deliberate bifurcation of development and security policies during the Cold War. Yet, the ready consensus among policy makers and advocates has served to obscure the difficulties involved in aligning security and development policies. Since the early 1990s, there has been a growing body of knowledge, policy innovations and operational responses at the intersection of security and development. IPA's Security-Development Nexus Program undertook a two year, multitrack research program to examine several questions:
•    What are the linkages between security and development at the thematic, policy, operational, and institutional levels?
•    How have national and international actors revised their policies and operations to address security and development as part of their conflict management strategies?
•    What empirically grounded assessments can be made of current approaches to linking security and development in conflict-prone, conflict-torn, or postconflict contexts?
The program involved research on violence, poverty, environment, globalization and demography; case studies of Guinea-Bissau, Guyana, Kyrgyzstan, Namibia, Somalia, Tajikistan, and Yemen; research on rule of law and security sector reform programming; a collaborative project with the University of Queensland (Australia) on the South Pacific region; the Peacebuilding Forum with WSP-International (Geneva); and other thematic studies.     
Our cumulative findings take issue with the rhetoric about the growing convergence between security and development. Instead, research findings point to serious contradictions, tensions, and trade-offs between different conceptions of security and development, as well as between competing priorities and policy objectives. This is not to deny the need to strive for greater coherence between security and development policies that are mutually supportive. However, our findings call for a more realistic understanding of the variable configurations between security and development in different contexts, and for differentiated national and international responses.