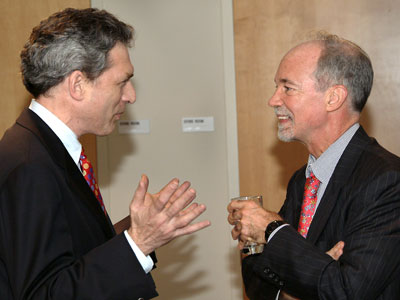 IPI hosted a reception honoring H.E. Dr. David Malone, Canada's High Commissioner to India and nonresident Ambassador to Nepal and Bhutan, and Mr. James Traub, contributing writer for The New York Times Magazine. The evening was an opportunity to celebrate the publication of their most recent books.
David M. Malone's book, The International Struggle over Iraq: Politics in the UN Security Council, 1980-2005, is an in-depth study of the international community's engagement vis-à-vis Iraq for the better part of a generation, as refracted through Security Council decision making. The book formulates a number of policy recommendations for enhanced Council performance, drawing on the lessons of the Iraq file. Given the situation on the ground, Iraq is likely to return to the Council's agenda in more active ways in years ahead. Thus, the analysis and recommendations in Malone's volume may be particularly timely for the UN community writ large.
James Traub's book, The Best Intentions: Kofi Annan and the UN in the Era of American World Power, recounts the dramatically entwined history of Kofi Annan and the UN from 1992 to the present. Traub enjoyed unprecedented access to Annan and to those around him, and offers a fine-grained portrait of both the man and the institution, operating under the tremendous duress of Iraq, Darfur and the Oil-for-Food scandal. The Best Intentions is a book about character, history, and geopolitics.
We were pleased to be able to celebrate the latest literary achievements of these two individuals.