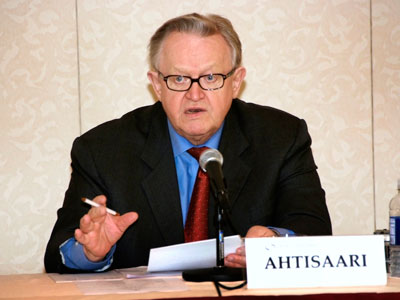 IPI was pleased to organize the latest event in our SRSG Series entitled "The Future Status of Kosovo and the UN." This event featured Mr. Martti Ahtisaari, the Secretary-General's Special Envoy for the future status process for Kosovo. Mr. Ahtisaari spoke about the latest developments in the status process and his recommendations to the UN Security Council on how to reach a sustainable future in Kosovo.
In November 2005, former UN Secretary General Kofi Annan appointed Mr. Ahtisaari as Special Envoy for the Kosovo future status process. In this capacity, Mr. Ahtisaari was charged with leading the political process to determine Kosovo's political status and its transition from UN oversight. In early 2006, Mr. Ahtisaari opened the UN Office of the Special Envoy for Kosovo (UNOSEK) in Vienna, Austria. This office maintains responsibility for the status negotiations to determine whether Kosovo should become independent or remain a part of Serbia.
Prior to taking on this role with the UN, Mr. Ahtisaari served as President of the Republic of Finland from 1994 to 2000. Upon leaving office, Mr. Ahtisaari founded the Crisis Management Initiative (CMI), an independent, non-governmental organization that works to strengthen the capacity of the international community in comprehensive crisis management and conflict resolution. Mr. Ahtisaari has been involved in a variety of other post-presidential activities such as facilitating the peace process between the Government of Indonesia and the Free Aceh Movement, chairing an independent panel on the security and safety of UN personnel in Iraq, and acting as UN Special Envoy for the Horn of Africa.
The meeting was chaired by IPI President Terje Rød-Larsen.