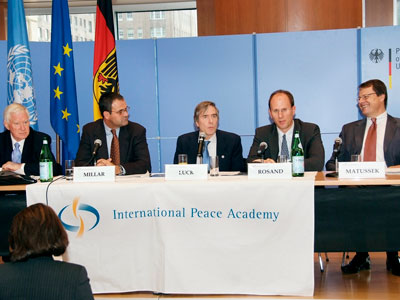 IPI held a policy forum at the Permanent Mission of Germany to the UN to present "The UN Security Council's Counter-Terrorism Program: What Lies Ahead," a new report by Eric Rosand, Alistair Millar, and Jason Ipe of the Center on Global Counterterrorism Cooperation.
A culmination of the Security Council Counter-Terrorism Review Project, co-sponsored by IPI and the Center, the report evaluates the progress of the Council's counter-terrorism program since September 2001. It focuses specifically on the Counter-Terrorism Committee (CTC) and the Counter-Terrorism Executive Directorate, whose mandate expires 31 December 2007. Following up on expert workshops in New York in April and July 2007, the report recommends ways to enhance operation efficiency and capacity assistance, promote understanding of the Council's counter-terrorism work, and protect human rights.
Panelists included Eric Rosand, a Senior Fellow at the Center, Alistair Millar, the Center's Director, Ambassador Thomas Matussek, Germany's Permanent Representative to the UN, and Ambassador Colin Keating, Executive Director of the Security Council Report. The forum was chaired by Dr. Edward Luck, Vice President and Director of Studies of IPI.