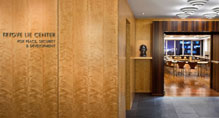 In the December 3rd issue of New York Magazine, the International Peace Institute was highlighted as a top ranked New York-based nonprofit.


Listed with groups such as Doctors Without Borders USA and the Memorial Sloan-Kettering Cancer Center, the International Peace Institute was featured based on its overall rating by the American Institute of Philanthropy (AIP).
The AIP provides objective evaluations of nonprofit organizations based on their efficiency, accountability, and governance. As such, the International Peace Institute (IPI) has consistently garnered a top rating of "A" on a scale from "A" to "F." This led to IPI's inclusion in the New York Magazine article providing advice to readers about how to make wise donations during the holiday season.
To access the article, please click here.