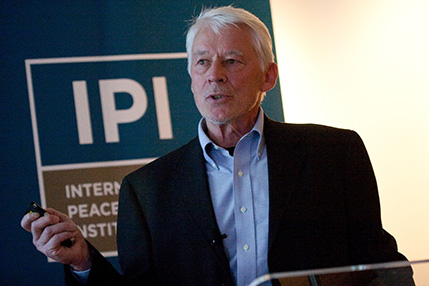 On February 3rd, John Burnett, author of Dangerous Waters: Modern Piracy and Terror on the High Seas, spoke at IPI on the resurgence of piracy off the coast of Somalia and on international responses to prevent and address it.
The discussion, moderated by Warren Hoge, IPI Vice President and Director of External Relations, was the first installment of IPI's Speaker Series. For each meeting of this new series, IPI invites a speaker to present on a pressing current issue and to engage participants in a broad-ranging question-and-answer session.
John Burnett is author of Dangerous Waters (Dutton 2002), an investigation of modern-day piracy inspired by his own experience of being attacked by pirates in the South China Sea. He is also author of Where Soldiers Fear to Tread: A Relief Worker's Tale of Survival (Bantam 2005), an account of his experiences as a relief worker for the World Food Program in Somalia from 1997 to 1998.