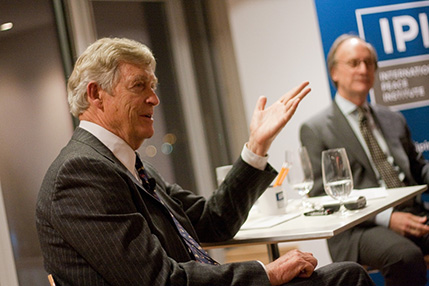 On February 11th, United Nations Foundation President Timothy Wirth led an IPI discussion on "US-UN Relations: What to Expect?"
To view a transcript of the event, click here.
IPI's Vice President and Director of External Relations Warren Hoge moderated the discussion, which was part of Beyond the Headlines, a series of events hosted by IPI for experts from Permanent Missions to the UN and other members of the UN community.
Following two decades of electoral politics, as a US Congressman and Senator, Timothy Wirth served in the US Department of State as the first Undersecretary for Global Affairs from 1993 to 1997. He chaired the United States Delegation at the 1994 Cairo Conference on Population and Development, and was the lead US negotiator for the Kyoto Climate Conference until he resigned from the administration in late 1997 to accept Ted Turner's invitation to be President of the newly created United Nations Foundation.
As President of the UN Foundation (UNF) since its inception in early 1998, Wirth has organized and led the formulation of the Foundation's mission and program priorities, which include the environment, women and population, children's health, and peace, security and human rights. The Foundation also engages in extensive public advocacy, fundraising, and institutional strengthening efforts on behalf of the United Nations.