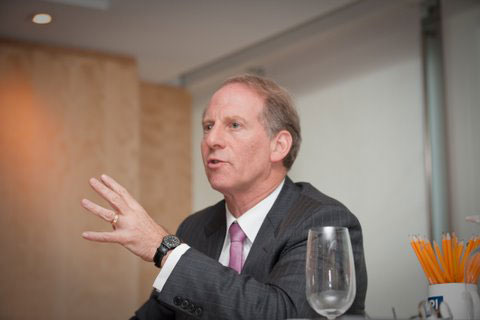 Richard N. Haass, President of the Council on Foreign Relations and author of the book War of Necessity, War of Choice: A Memoir of Two Iraq Wars, outlined at an IPI evening reception when and how the US should or should not go to war and when it might be a necessity.
Haass, a senior member of both the administrations of President George H. W. Bush at the time of the first Persian Gulf War and President George W. Bush during the second Gulf war, also spoke about how poorly foreign policy was executed during the second Bush administration, and how commendably it was conducted during the first one.
At the conclusion of the talk, Haass took questions from the audience, including one about the authority of the UN Security Council in such decisions.
"Kosovo was a war of choice that was done in the explicit absence of the Security Council's support," Haass answered, "and I think it was right. I don't believe the Security Council is the only repository of legitimacy. Sorry, I know it's probably sacrilege to say it so close, but I simply don't. Legitimacy could come from other sources, including the content and purpose of the action."