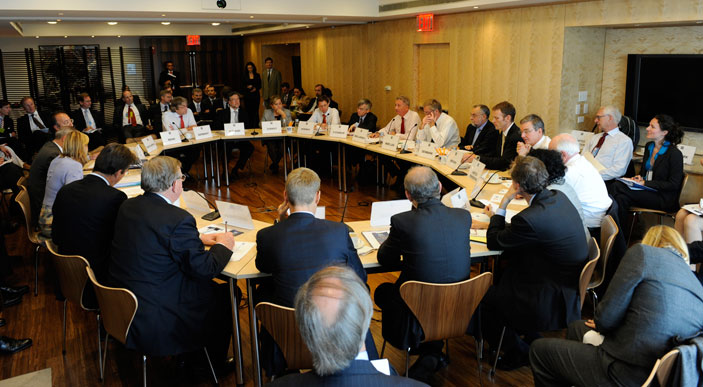 On September 22nd, IPI and the Danish government co-hosted a high-level dialogue on the nexus of climate change and international security.
Moderated by Danish Foreign Minister Per Stig Møller, whose opening remarks are available for download, the event heard presentations by climate change experts before the floor was opened to environment and foreign ministers from states around the world.
Terje Rød-Larsen, IPI president, echoed sentiments expressed by many participants in saying that the event ought to complement the parallel efforts at the UN on the issue. Indeed, the timing of the dialogue held at IPI's Trygve Lie Center allowed member states to begin to build consensus on climate change ahead of December 2009's Copenhagen conference on the subject.
Following presentations by Oli Brown of the International Institute for Sustainable Development, and David O'Connor of the UN Department of Economic and Social Affairs, those present discussed the various facets of climate change as a challenge to security, putting forward ideas on how to tackle it both nationally and multilaterally.
The following areas of agreement emerged:
Climate change is one of the most pressing issues facing the world today; anticipation and the development of early-warning mechanisms will be very important;
While not a traditional "military" security challenge, climate change represents a threat multiplier, which has the potential to exacerbate existing security problems;
Existing institutions must be upgraded to cope with climate change, or else new ones need be created;
Migration as a result of extreme weather events caused by climate change will increasingly represent a threat to security; and
Migration will likely be the issue to force countries to act sooner rather than later.
The meeting was held under the Chatham House Rule.