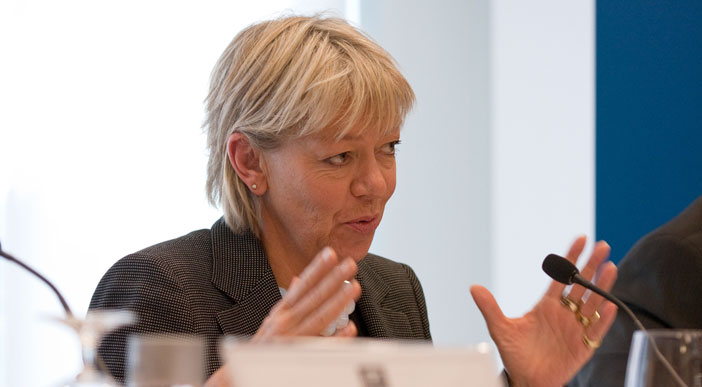 An IPI policy forum launched a new joint study by a UN office and a prominent Norwegian group showing that 36 million people were displaced in 2008 by sudden onset natural disasters — 20 million of them by climate-related disasters such as storms and floods.
This large number of climate-related displacements has significant implications for the planning for and delivery of humanitarian assistance to displaced populations.
By contrast, the study showed, in the same year, there were 4.6 million people newly displaced by conflict.
"It shows something about the balance here," said Elisabeth Rasmusson, Secretary-General of the Norwegian Refugee Council, whose Internal Displacement Monitoring Centre (IDMC) conducted the study in collaboration with the UN Office for the Coordination of Humanitarian Affairs (OCHA)
Entitled "Monitoring Disaster Displacement in the Context of Climate Change" and launched in an IPI meeting on November 2, 2009,  the study examined disaster-related forced displacement in 2008, specifically climate-related disasters, and proposed a methodology to monitor disaster-related displacement on an ongoing basis.
Sir John Holmes, the Under-Secretary General for Humanitarian Affairs and Emergency Aid Coordinator, pointed out in his remarks that the study "does lend scientific weight to what we, in the humanitarian community have known anecdotally, from a long time from our work on the front lines, that natural disasters do have huge consequences in terms of displacement and, in particular, that climate change has profound displacement implications and those implications are increasingly making themselves felt."
A third panelist, Dr. Simon Mason of the International Research Institute for Climate and Society of the Earth Institute at Columbia University, discussed the prospects and difficulties of predicting natural disasters while Jeem Lippwe, the Deputy Permanent Representative of the Federated States of Micronesia highlighted the existential threat that climate change poses to many countries; in particular, the fact that some small island states may likely become uninhabitable due to rising sea levels.
"The risk of statelessness is one of the greatest security threats caused by the impact of climate change," he said.
Dr. Edward C. Luck, IPI's Senior Vice President and Director of Studies, made welcoming remarks and moderated the meeting.
Read edited transcript of this session (pdf)
Read the study "Monitoring Disaster Displacement in the Context of Climate Change" (pdf)