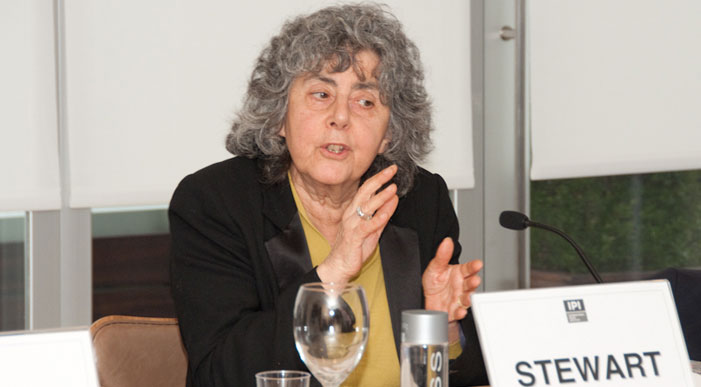 This statement was made by Dr. Frances Stewart of Oxford University during an IPI policy forum on inequalities and conflict held last week that also featured discussants Ambassador Peter Maurer of Switzerland and Dr. Susan L. Woodward of CUNY.
Dr. Stewart was responding to a question about the Northern Ireland peace process, which succeeded in restoring near equality to the Catholic-Protestant relationship. "When you correct inequalities," she said, "you always have losers as well as gainers. You can't really avoid it. Of course, if you can do so in a growing economy, so people are losing relatively but not absolutely, that's better. But you do have losers."
In speaking about horizontal inequalities—the subject of the panel discussion and of her 2008 book—Dr. Stewart said, "Analysts say that people can't live together; that it's the clash of civilizations, and there's nothing much we can do about it. And then a whole lot of economists say it's nothing to do with culture at all, nothing to do with ethnicity; it's to do with individual people wanting to make money out of war. Greed, it's called.
"I think what the horizontal-inequalities approach does is to bring these two together. It says, yes, it is about culture, but it's also about economics. If groups have fundamentally unequal relationships—in politics, in economics, in culture, in the way their culture is treated in the society and the way their religions are treated in society, in social assets, in all these different aspects—then the people who are deprived have a very big motive to challenge the government. And the people in government, if they're a different group, have a big motive to suppress the others and retain their privilege. And that's fundamentally why horizontal inequalities, as distinct from vertical inequality, tends to lead to conflict."
The policy forum, held on January 18, 2010, was chaired by Dr. Edward C. Luck, IPI Senior Vice President for Research and Programs.