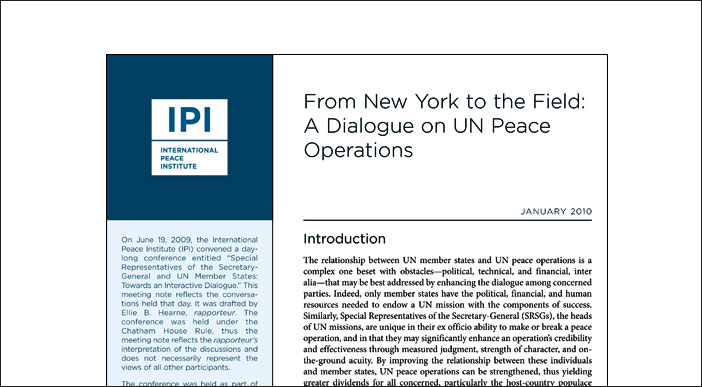 The relationship between UN member states and UN peace operations is a complex one that may be best addressed by enhancing the dialogue among concerned parties.
Only member states have the political, financial, and human resources needed to endow a UN mission with the components of success. Similarly, Special Representatives of the Secretary-General (SRSGs), the heads of UN missions, are unique in their ex officio ability to make or break a peace operation, and in that they may significantly enhance an operation's credibility and effectiveness through measured judgment, strength of character, and on-the-ground acuity.
This meeting note reflects the conversations on this subject held during a day-long IPI conference entitled "Special Representatives of the Secretary-General and UN Member States: Towards an Interactive Dialogue."
Attendees included a selection of SRSGs (current and former), permanent representatives of missions to the UN, representatives from the highest levels of the Secretariat, and keynote speaker UN Secretary-General Ban Ki-moon. The conference sought to foster closer ties and share lessons learned among those represented, with a view towards working better in concert.
The meeting was held under the Chatham House Rule and took place on June 19, 2009.