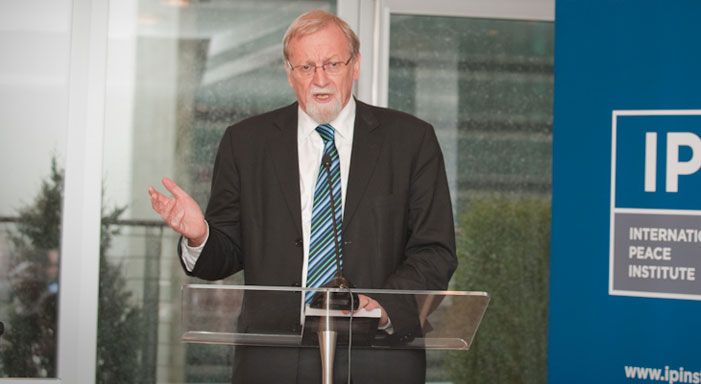 Gareth Evans, co-chair of the International Commission on Nuclear Non-Proliferation and Disarmament, made a passionate declaration of the commission's commitment to bringing the number of worldwide nuclear arms to zero.
In an address to the audience at IPI on January 25th, Mr. Evans said that achieving zero nuclear weapons was the "absolute theme" of the commission's new report, Eliminating Nuclear Threats, which was published in December 2009.
Mr. Evans said, "We're not going to achieve the policy objectives that we need to in this whole area without being absolutely serious about getting to zero as the final step of the process. And hopefully sooner rather than later."
He pointed out, though, that the commission has been unable to settle on a deadline for reaching its ambitious goal: "We did not feel able, credibly, to identify a particular target date for achieving zero because of the number of constraints, conditions that are going to have to be dealt with to achieve that." Mr. Evans, a former foreign minister of Australia, identified the constraints as "not only geopolitical ones and fragile and volatile neighborhoods, but also of course psychological ones, also practical ones going to verification, practical issues going to enforcement, so that countries can be genuinely confident, they can get to zero."
The IPI event included a forty-minute Q-and-A session with diplomats and international experts in the audience. The event was moderated by IPI's Senior Vice President Dr. Edward C. Luck, and included opening remarks by IPI's President, Terje Rød-Larsen.
Click the "play" button on the right to listen to the full event podcast:

Read the transcript

Get IPI podcasts from iTunes