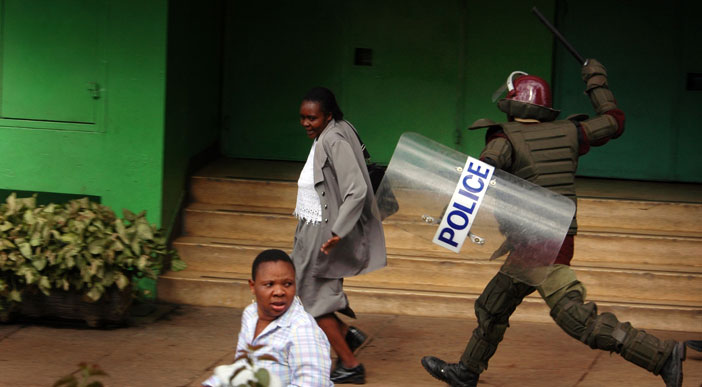 The post-election violence and destruction during January 2008 came as a shock to many within Kenya and abroad. There were real fears of a civil war. At least 1,133 people died, 117,216 private properties were destroyed, and more than 600,000 were displaced.
It is against this background that President Kibaki, in May 2009, established the National Task Force on Police Reform. There was a realization that the fractured nature of Kenyan society, and its real potential to descend into conflict and violence, demanded a fundamental re-look at the nature and role of the police in Kenya.
The seventeen-member task force had a wide mandate to look at the fundamental reform of policing in Kenya. Having managed a similar initiative on police transformation in post-Apartheid South Africa, I was appointed to the Kenyan task force as an international expert and its vice chairman.
Five months later, on November 3, 2009, the task force presented a comprehensive report with more than 200 recommendations to Kenya's President and Prime Minister. In a broad presentation to IPI staff, I reported on my five months on the task force in Kenya, the complex ethnic and political makeup of Kenya, and on reforming the police. Read full version of the report.
To begin to understand some of the deep-seated and long-standing divisions within Kenya, let alone making recommendations as to how they should be resolved, it is important to first step back into colonial and pre-colonial history and to familiarize oneself with the geography and the complex ethnic make-up of the country. This is an important part of understanding Kenya, and I've outlined the divisions in the full version of the report.
Task forces or commissions of enquiry or panels inevitably generate their own peculiar internal dynamics. Many factors influence such dynamics, but among the more important ones are politics and personalities. These all vary from case to case but where a task force — in as fragile a country as Kenya — is made up of 17 members and meets regularly over a period of 5 months, it stands to reason that the impact of political allegiances and the influence of personalities will be even more pronounced than would be the case with a small panel being appointed elsewhere for a short period.
In order for it to withstand any initial criticism about political partisanship, the task force had to have an extremely finely balanced composition, which would leave no opportunity for finger pointing from critics. There is more about the make-up of the task forces in the full version of the report.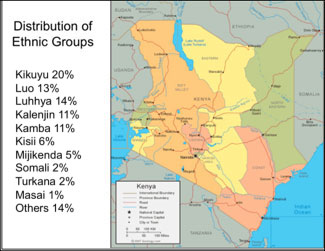 The task force reviewed a wide range of research and police-related literature and received written and oral submissions from many stakeholders and experts. During visits to all eight provinces of Kenya, it met and had discussions with the Provincial Administration and Police leadership, and hosted public hearings where it received written and oral representations. The views of both senior and junior police officers were sought. In addition, the task force visited Botswana, Sweden, and the United Kingdom and Northern Ireland to learn from their policing experience.
We found that public confidence in the police — particularly the Kenya Police — was low, and members of the public were reluctant to pass on crime information to them. They complained about widespread extortion of money through bribery and many saw the police as ineffective and as corrupt at all levels. They expected the police to cease their harsh and aggressive treatment of suspects, victims, and members of the public and asked for human rights and a more pro-active, service orientated approach from the police.
Meetings with member of the police and visits to their living quarters revealed that they were poorly resourced and that they often lacked the basic equipment that police require to function properly and professionally. Many lived in appalling conditions and their morale was low. They were very concerned about the levels of political interference, corruption and nepotism in policing matters, including the release of suspects from police custody on orders of senior officers under questionable circumstances, and interference in the recruitment, transfer and promotion processes. Corruption in the police was seen as widespread and endemic. Many from the rank and file of the police were unhappy about the centralized command, transfer and deployment policy and the non-payment of allowances. They are not adequately covered for injury or death that might result in their line of duty.
Some Key Recommendations
Only six out of the approximately 200 recommendations in the task force report will be briefly mentioned. The 16-page summarized version containing some of the recommendations is available here.

1. New police leadership
In its August 2009 interim report the task force recommended that a 'visible' change at the top leadership level of the police was required to convince the public that the Government was serious about reforms. A new National Commissioner of the Kenya Police was appointed a month later.
2. Merging two police services?
Many representations from the public related to the relationship between the two police forces in Kenya (now to be renamed police services), namely the Kenya Police and the Administration Police. The latter is a complicated relic from colonial times, originally established to assist chiefs in rural areas with both law enforcement and administrative matters. There has been increasing concern in Kenya about what appears to be a growing rivalry, an overlap of functions, and competition between the Kenya Police and the Administration Police. Some advocated a merger of the Administration Police with the Kenya Police whilst the majority of submissions received were against such a merger as they had greater trust in, and related better to, the Administration Police, particularly in rural areas.
This was a highly politicized matter and after lengthy deliberations the task force recommended that the separate existence of the two police services "should continue at this point in time."
3. Creating a National Policing Council
To ensure that that the two police services work harmoniously and that they are effective, efficient and accountable, a new supervisory and monitoring structure was recommended, namely the National Policing Council. It will ensure that unhealthy competition between the Kenya Police Service and the Administration Police Service does not occur and that resources and facilities are shared.
4. Decentralizing the police services
Policing by the Kenya Police had in recent years been undertaken through a highly centralized command structure from Police Headquarters in Nairobi. This eroded the powers of provincial and district police commanders and contributed to widespread dissatisfaction amongst police officers, stifled local police initiative and alienated members of the public. Due to the manner of the appointment and the centralized powers vested in the Commissioner of Police, there had been very little accountability to the people that the police were meant to serve. Until then, the Commissioner had been accountable to the President alone while the officers below him were accountable to the Commissioner. This made the police vulnerable to both political and hierarchical misuse.
The task force report therefore contains far-reaching recommendations aimed at moving away from an overly centralized command structure by devolving powers and responsibilities to lower levels and by providing greater operational and financial autonomy to commanders at provincial, district and station levels.
5. Enhancing police accountability and transparency
Complaints against police conduct, ranging from corruption, arbitrariness, harassment of members of public, lack of political neutrality, engaging in criminal activity, abuse of power and the use of excessive force including extra judicial executions, have in the past not been dealt with impartially and were often ignored. The report recommends the establishment of a new institution, composed of civilians, that will focus on monitoring and investigating police conduct, namely an Independent Policing Oversight Authority. It will be established under the Constitution and will provide clear legislative powers to enable the body to execute its mandate.
6. Implementing the task force recommendations
A novel recommendation is aimed at the establishment of a statutory Police Reforms Implementation Commission whose function it will be to coordinate, monitor and supervise the implementation of the reforms recommended in the task force report. It will be composed of local and international policing experts, senior government officials and police officers, with a civilian chairing the Commission. The aim is to speed up police reform implementation and enhance public confidence in the process.
The Way Forward
Government's reform rhetoric will now be tested against the actual implementation of the police reform recommendations. Some have already been implemented and there are reasons for optimism. However, many skeptics do not believe that the government will keep its word. Many see the political elite as largely self-centered, corrupt, and an obstacle to change in Kenya. Politicians are seen as having created an environment of impunity for themselves in which they are protected from prosecution, both for major financial scandals as well as for crimes committed during the post election violence.
This makes for depressing reading, but Kenyans seem to be prepared to largely overlook these serious shortcomings. A September 2009 survey conducted by Synovate Kenya found that an overwhelming 86 per cent of Kenyans rate themselves happy, with 55 per cent being very happy and 32 per cent moderately happy. Only 12 per cent were unhappy. It found that Kenyans are willing to overlook all their trials and tribulations and find solace in family, work, and the pursuit of a better life.
There are in fact many reasons for Kenyans to be positive about their country. It has a well-educated population. It has an amazingly vibrant and free press and a young population which is increasingly becoming alienated from the divisive tribal politics of the older generation. It is a beautiful country with natural resources and a great potential for further development. For all these promising features to prevail and to set the pace in Kenya, fundamental reforms in addition to police reforms are required. The entire criminal justice system needs to be shaken up, land reform cannot remain unattended, and youth development and job creation should be a priority. This is a tall order, but so is the risk for not doing it.
Related documents:
Full version of the report (pdf)
Summary of the Task Force Report (pdf)