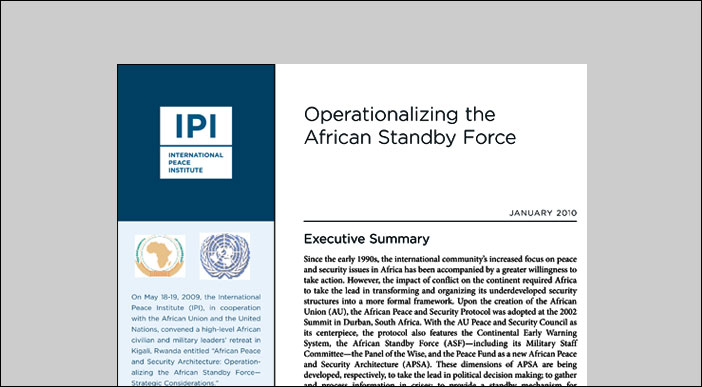 In Kigali, Rwanda last year, the International Peace Institute, the African Union , and the United Nations convened a high-level African civilian and military leaders' retreat to discuss the challenges surrounding the operationalization of the African Standby Force. This meeting report highlights the key issues raised at the retreat and synthesizes the recommendations that emerged from the discussions.
The key recommendations focused on encouraging member states to transfer their contributions to the African Union in a timely manner; identifying appropriate locations for logistics bases for the African Standby Force; clarifying African Standby Force mandate structures; and enhancing management skills at the African Union, regional economic communities, and mission headquarters.
Underlying these points was recognition of the continuing need to bring senior leaders of the African Union and the regional economic communities into a closer and more sustainable dialogue.
The retreat, which took place on May 18-19, 2009, was attended by over forty representatives from the African Union, the UN, and the regional economic communities, as well as academic and policy experts from around Africa.
Mashood Issaka and Elijah Dickens Mushemeza served as rapporteurs at the meeting, which was held under the Chatham House Rule.