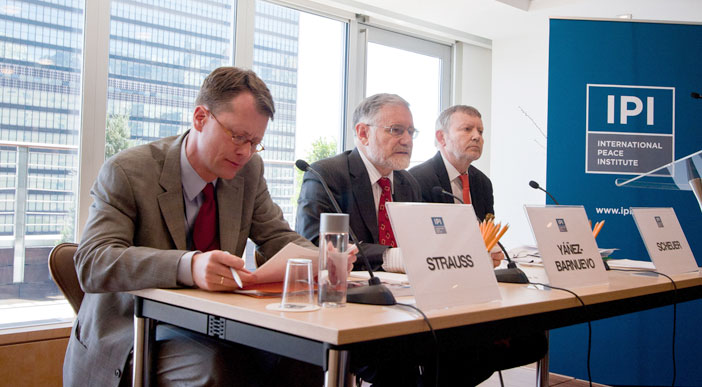 On April 14th, IPI and the permanent mission of Turkey to the UN brought together nearly one hundred members of the UN community to discuss combating incitement to terrorism and promoting international dialogue and cooperation to that end.
Ambassador Ertuğrul Apakan of Turkey observed in his opening remarks that, despite the efforts of the international community, terrorism continues to be a major threat to international peace and security. It was therefore important, he observed, to commemorate the fifth anniversary of UN Security Council Resolution 1624 and to strengthen the resolve of the international community to combat incitement to terrorism.
Resolution 1624 was often considered the "poor cousin" of UN Security Council Resolutions 1373 and 1267, said Mike Smith, executive director of the Security Council Counterterrorism Committee's Executive Directorate (CTED). However, he argued, combating incitement and violent radicalization are key elements of successful long-term counterterrorism initiatives and suggested means by which CTED could further the work of the UN system to address this challenge.
Among the mechanisms for incitement discussed, the role of the Internet was highlighted. Though it is often considered a key tool for recruitment and radicalization, author Marc Sageman (Understanding Terrorist Networks and Leaderless Jihad) argued that what happens online often complements social activities and behavior offline; the Internet serves to reflect what is already occurring in real life. Moreover, he said, the Internet operates as an egalitarian forum where people incite each other, rather than follow a charismatic leader. Therefore, he pointed out, most institutional approaches which reflect this "top-down" approach are not suitable for the Internet. Discussions elicited a possible role for the UN in removing the obstacles to activity by civil society, enabling them to combat incitement and provide alternative channels for non-violent political activity to mediate behavior both on- and offline.
The promotion of intercultural dialogue and human rights as key elements in combating incitement, violent radicalization and terrorism was highlighted by Marc Scheuer, director of the UN Alliance of Civilizations (AoC), and Ekkehard Strauss from the Office of the High Commissioner for Human Rights (OHCHR). For example, in order to assist the media in accessing experts to provide balanced analyses in times of crises, the AoC maintains a global database of experts willing to speak to the press. OHCHR focuses on broadly mainstreaming human rights within discussions with member states and providing guidance and capacity-building assistance to promote a human rights approach. It is also an active member of the UN Counter-Terrorism Implementation Task Force (CTITF), through which it works with the UN system to implement the Global Counter-Terrorism Strategy.
The discussions were moderated by IPI Vice President for External Relations Warren Hoge and Ambassador Juan Antonio Yáñez-Barnuevo of Spain.
In conclusion, Ambassador Yáñez-Barnuevo reiterated that the fight against terrorism necessitates a determined and long-term effort by the international community.

 Read the meeting note