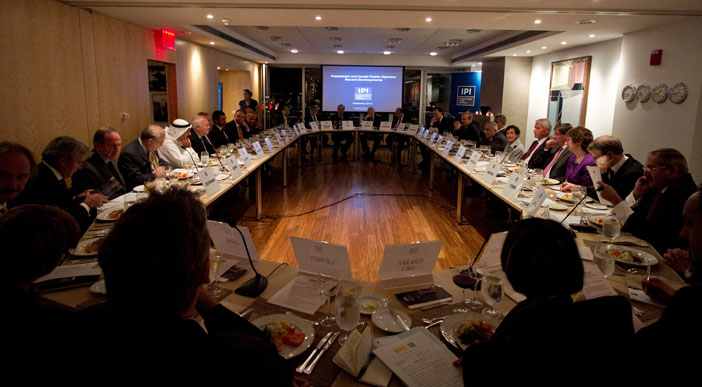 On Sunday, September 19th, IPI convened its Fifth Informal Ministerial Dinner on the Middle East in its Trygve Lie Center for Peace, Security, and Development.
The working dinner was attended by some thirty foreign ministers and other high-level representatives from the Middle East, Europe, and beyond. It was co-chaired by IPI President Terje Rød-Larsen and the Foreign Minister of Spain, Miguel Moratinos.

The gathering included key Middle East figures such as the Prime Minister of the Palestinian Authority and the Secretaries-General of the Palestinian Liberation Organization and the League of Arab States.

Other attendees were the Prime Minister of Liechtenstein; the Deputy Prime Ministers of Kuwait and Belgium; the Foreign Ministers of Algeria, Cyprus, France, Greece, Iraq, Jordan, Morocco, Norway, Portugal, Switzerland, Turkey, and the United Arab Emirates; the Secretaries-General of the Council of Europe and the Organisation for Economic Co-operation and Development; the European Union's High Representative for Foreign Affairs and Security Policy, and other senior officials from governments and the United Nations.

The working dinner, held under the Chatham House Rule of nonattribution, began with a slide presentation by IPI Senior Adviser Craig Charney on recent public opinion developments in Israel and the Palestinian Territories. The presentation focused on Israeli and Palestinian attitudes towards the peace process, the role of international actors, and public opinions of the Israeli and Palestinian leaderships. It was followed by a discussion on how to move toward a more stable and peaceful future in the Middle East.