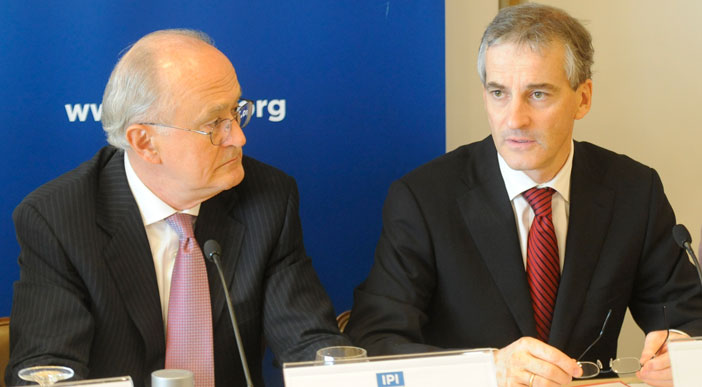 Foreign ministers and representatives from civil society and the business sector gathered at IPI on September 24th to discuss how to advance the international agenda on business and human rights and the work of the Special Representative of the Secretary-General in this area, Professor John Ruggie.
Speaking on the challenging way ahead, Professor Ruggie said, "There is no single silver bullet solution to the institutional misalignments in the business and human rights domain. Instead, all actors—states, businesses, and civil society—must learn to do things differently."
He presented the key challenges involved in implementing the UN framework "Protect, Respect, and Remedy," which was adopted by the Human Rights Council in 2008 and proposes several measures to strengthen the human rights performance of the business sector around the world.
Norwegian Foreign Minister Jonas Gahr Støre, who chaired the event, expressed support for Ruggie's work, noting that "Globalization, amplified by the financial crisis, has presented new and complex challenges for the protection of human rights. However, governments that implement the UN Framework may strengthen their long-term competitiveness and position by building responsible relationships with business."
The debate that followed at this Third Annual Trygve Lie Symposium featured comments and reflections by:
Maite Nkoana-Mashabane, Foreign Minister of South Africa;
Alexander Yakovenko, Deputy Foreign Minister of Russia;
Alberto D'Alotto, Deputy Foreign Minister of Argentina;
Maria Otero the Under Secretary of State for Democracy and Global Affairs of the United States;
Raff Bukun-Olu Wole Onemola, Deputy Permanent Representative of Nigeria;
Mary Robinson, the Chair of the Institute for Human Rights and Business; and
Ronnie Goldberg, Executive Vice President of the United States Council for International Business.

Read transcript