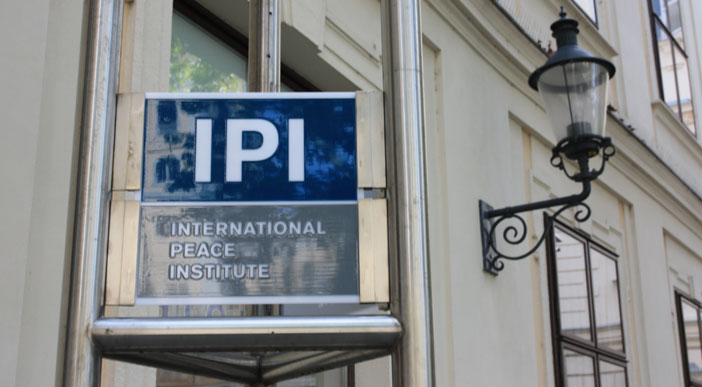 Sharpening its international profile and broadening its reach to Europe and beyond, the International Peace Institute (IPI) has announced the establishment of a new office in Vienna.
IPI has had a forty-year partnership with Austria, manifested by the annual Vienna Seminar that brings together policymakers, academics, and military experts to discuss pressing issues of peace and security, and to explore ways of improving the global system of conflict prevention and risk management.
Vienna, a traditional center for diplomacy and multilateral negotiations, has become a hub for security issues and home to a number of regional and international agencies. These include the International Atomic Energy Agency (IAEA), the United Nations Office on Drugs and Crime (UNODC), the United Nations Industrial Development Organization (UNIDO), the Organization for Security and Co-operation in Europe (OSCE), the Comprehensive Nuclear Test Ban Treaty Organization (CTBTO), and the Organization of the Petroleum Exporting Countries (OPEC).
"IPI will now be present at the heart of Europe and will be able to plug directly into this critical network in order to leverage the work that it does in New York on conflict prevention, transnational threats, nonproliferation, and energy security," said Terje Rød-Larsen, IPI's President.
In addition to carrying out research and providing policy advice, the Vienna office will host roundtable meetings and high-profile speakers on issues related to international peace and security. As at IPI in New York, the office will be a place where government officials, diplomats, members of civil society, and academics can gather and discuss urgent security challenges and exchange views candidly in a trustful atmosphere.
An independent, international, not-for-profit think tank, IPI was founded in 1970 in New York and since its inception has occupied offices in the Church Center building across First Avenue from United Nations headquarters. The Vienna office is the first that IPI has created outside of New York.
IPI was originally known as the International Peace Academy (IPA) at a time when its principal function was training military and civilian professionals in peacekeeping. The mission today is a broader one of promoting the prevention and settlement of conflicts between and within states by strengthening international peace and security institutions. To achieve its purpose, IPI employs a mix of research, policy advice, convening, publishing, and outreach.
IPI's new Vienna office is located in the Palais Harrach in the historic center of the Austrian capital, close to diplomatic missions, the Austrian foreign ministry and the headquarters of a number of international and nongovernmental organizations.
Working out of the new office at the outset are Andrea Pfanzelter, Director of the Vienna Office, and Walter Kemp, Director for Europe and Central Asia.

The Vienna office address is Freyung 3, 1010 Vienna. The phone number is +43-1-533-8881.