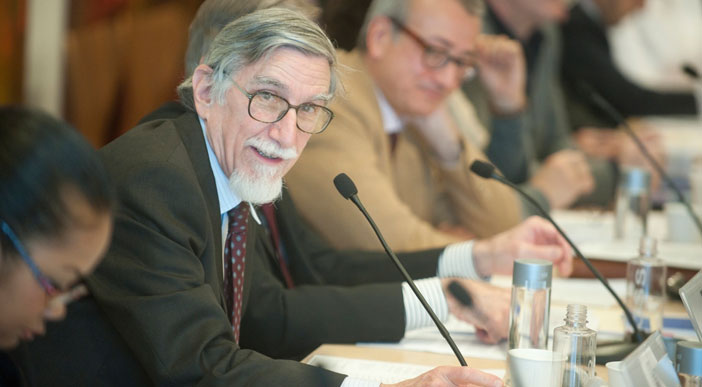 What would it take to achieve a lasting international peace?
Immanuel Kant asked this question over 200 years ago in his essay "Perpetual Peace: A Philosophical Sketch," where he effectively anticipated multilateral institutions like the United Nations and the European Union.
On November 16th, experts on peace including Robert Jervis, Adlai E. Stevenson Professor of International Affairs at Columbia University (pictured at left), joined practitioners from several multilateral institutions for an IPI workshop to discuss the relevance of Kant's famous essay, which at its heart says that war between nations is natural, and peace can only be brought about by securing the rights of all through a federation of free states.
Austria's Minister of Defense and Sports, Norbert Darabos, gave the keynote address, and a brief presentation on the significance of Kant's text was given by Michael Doyle, Harold Brown Professor of US Foreign and Security Policy at Columbia. See full agenda.
The wide-ranging discussions began with a traditional definition of international peace as a relationship between states, but then quickly moved on to address the contemporary challenges of intrastate conflicts, transnational threats, and human security.
In the spirit of cross-disciplinary dialogue, each roundtable featured comments by a scholar and a practitioner. Then the floor was opened to discussion by all participants.
The day was organized around three roundtable discussions: "Sovereignty and Collective Security;" "Democracy, Governance, and the Rule of Law;" and "Human Rights and Cosmopolitan Citizenship."
The workshop also presented selections from an original film produced by the Slought Foundation and the Perpetual Peace Project, featuring conversations with renowned philosophers and practitioners reflecting on Perpetual Peace with reference to current international priorities and conflicts. The event, "Sovereignty, Democracy, Human Rights: Dialogues on Perpetual Peace," was held in cooperation with the European Union Institutes of Culture, the Slought Foundation, Syracuse University, and United Nations University.
To listen to the sessions, click one of play buttons below:
Welcome and Introduction (45min)
Session 1: Sovereignty and Collective Security (1hr 30min)
What is the current condition and future potential of global collective security? What reasonable constraints on sovereignty must states accept to exit their natural state of conflict in favor of establishing a global legal order with the goal of preventing war forever? Nonstate actors also have a growing influence on global collective security. How should sovereign states engage with them?
Session 2: Governance and the Rule of Law (1hr 22min)
To what extent is collective security dependent upon the spread of democracy and the rule of law? What is the proper role of the international community in promoting good governance and the rule of law or in strengthening weak and fragile states? How should "illiberal" regimes be addressed by the international community? Are they necessarily an impediment to the establishment of lasting peace and security?
Session 3: Human Rights and Cosmopolitan Citizenship (1hr 55min)
In a time of heightened population movements, what obligations does a right to hospitality create for the care and protection of refugees and immigrants? Who must satisfy these obligations? Currently, to what extent do human rights and international humanitarian law establish a layer of cosmopolitan or global citizenship above and beyond—or in complement to—national citizenship?