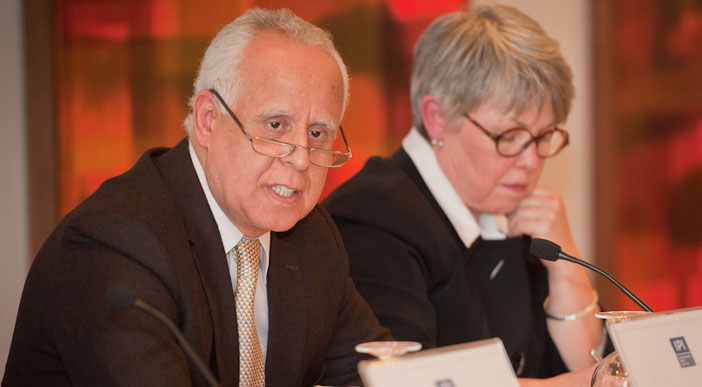 The International Peace Institute, in partnership with the Pearson Peacekeeping Centre (PPC), has just begun a series of events to bring together existing, emerging, and potential troop- and police-contributing countries in an informal setting to allow for an open and candid exchange of experiences.
The first meeting in the series, called Being a Peacekeeper: The Challenges and Opportunities of 21st Century Peace Operations, was a two-day roundtable in New York on November 29-30, 2010.

One purpose of the series is providing a forum to help facilitate outreach from the UN Department of Peacekeeping Operations (DPKO) to contributors and help formulate policy development within the UN Secretariat.

The roundtable, co-sponsored by the government of Morocco, began with a discussion of current trends in peacekeeping. Participants focused on themes of burden-sharing, expectation-management, and the need for diplomats and UN officials in New York to gain first-hand knowledge of the field.

The panel that followed provided an opportunity for discussing the barriers facing and motivations of countries who contribute to UN peacekeeping. Participants touched on the topic of consultations between the Security Council and troop-contributing countries during the mandate-drafting and mandate-renewal processes. To this end, there was strong support for reforming the process of mandate adoption to ensure greater involvement of those who contribute troops and police to these missions.

The second half of the roundtable covered capacity-building, training, and Secretariat support to contributing countries. Participants stressed the importance of baseline standards in training and the need for a sustainable effort to prepare trainers to bridge quality and quantity gaps in the field. Participants also discussed how the Department of Field Support could better manage the full deployment cycle, particularly the start-up and drawdown phases, and the need to provide mission-specific, as opposed to generic, guidelines.

Some participants focused on a perceived shortfall in support for small and new troop- and police- contributing countries. Member-state representatives and representatives of the Secretariat agreed on the importance of increasing the participation of female police officers in UN field missions, which may involve overcoming legislative barriers in some countries.

Future meetings, both in New York and at the regional level, will provide space for more discussions among troop- and police-contributing countries in 2011.