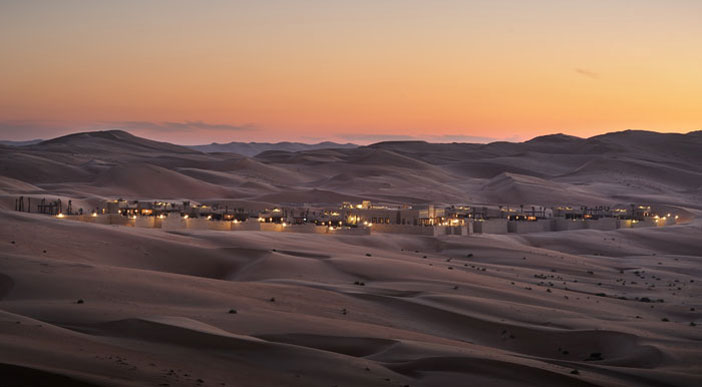 The United Arab Emirates (UAE) and the International Peace Institute (IPI) have this past weekend hosted more than twenty foreign ministers from around the world at a desert retreat in Abu Dhabi in the inaugural Sir Bani Yas Forum on International Peace and Security.
The forum is a high-level retreat which aims to create an exclusive and private atmosphere for action-oriented discussions among policy- and opinion-makers about critical issues in advancing peace and security in the Middle East.
This year's event, held from November 5th to November 8th at the Qasr al Sarab Resort located in the vast expanse of desert surrounding the oasis of Liwa, was a gathering of a select group of foreign ministers from the Middle East, Europe, Africa, Asia, and Latin America and international experts and business leaders who shared their knowledge and understanding of emerging geopolitical challenges in the Middle East and to develop ideas for problem-solving.
Every year the retreat will propose a two-and-a-half-day discussion around global, regional, and thematic issues. For 2010, the topic was "The Middle East: Energy and Security," with an opening session dedicated to global trends and their regional implications. Participants included heads of state, decision makers, and experts in the fields of security, energy, and the Middle East peace process.
The event opened formally Saturday morning with remarks from His Highness Foreign Minister Sheikh Abdullah bin Zayed Al Nahyan and IPI President Terje Rød-Larsen.
Prior to the opening of the event, Sheikh Abdullah said, "Discussions among leaders among different regions and fields are essential in our interdependent world. The challenges are many and of unprecedented complexity, developing into more dangerous global configurations as they become increasingly interconnected. As the gap between the complexity of the challenges and the inadequacy of the global fora for decision making widens, the need for high-level meetings among global leaders becomes more evident. Further, the UAE seeks to take a lead in facilitating regional solutions to regional problems. This retreat is an important initiative in this direction."
Mr. Rød-Larsen commented, "The goal of this initiative is to create an exclusive, confidential and trustworthy atmosphere for searching conversation and action-oriented discussion among policy and opinion-makers and business leaders on critical challenges for peace and security in the Middle East."
The delegates heard keynote addresses from Mahmoud Abbas, President of the Palestinian National Authority, and Tony Blair, former Prime Minister of the UK and Special Envoy of the Quartet on the Middle East.
The Sir Bani Yas Forum is conceived of as a candid peer discussion and inclusive exchange and is held under the Chatham House Rule of nonattribution, with both the agenda and participants remaining confidential.
News Coverage
Tony Blair Praises IPI Forum (The National, UAE)
Mahmoud Abbas and Tony Blair expected at UAE peace forum (The National, UAE)