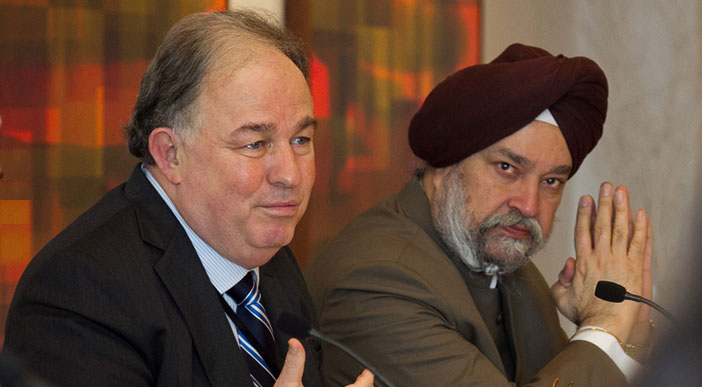 With five new non-permanent members—Colombia, Germany, India, Portugal, and South Africa—set to join the Security Council in January 2011, fresh perspectives and priorities are likely to shape the Security Council's efforts to counter global terrorism and violent extremism.
On December 7, 2010, the International Peace Institute hosted a closed-door roundtable to examine the role of the Security Council in combating terrorism over the past year and identify future trends and priorities.
The thirty-plus participants, who included a majority of the current and incoming members of the Security Council, discussed the following:
The successes of the Council in implementing resolutions 1267 and 1373;
Innovations such as regular and thematic briefings for the broader UN membership by the Counter-Terrorism Committee Executive Directorate (CTED);
The appointment of the Ombudsperson for the 1267 Committee, and more streamlined working methods in the Counter-Terrorism Committee (CTC) that have allowed the Council to delve deeper into substantive debates;
Procedural implementation and coordination challenges that still need to be addressed to effectively combat the evolving terrorist threat;
The need for counterterrorism efforts to be focused on prevention in line with the UN Global Counter-Terrorism Strategy, which highlights conditions conducive to the spread of terrorism;
Terrorism cannot be defeated by security measures alone; and
The importance of combating incitement to terrorism, as noted in Security Council resolution 1624 (click here for an IPI meeting note on that topic).
The discussions also called for the Security Council to take a more comprehensive approach to countering terrorism by concentrating on thematic areas and regional strategies, taking into account evolving political contexts in the field.
In particular, the participants called for greater dialogue and cooperation with international, regional and subregional organizations in response to the destabilization efforts of terrorist networks and the increase in transnational organized crime.
The roundtable, entitled "The Role of the United Nations Security Council in Countering Global Terrorism," was chaired by IPI Senior Vice President Edward C. Luck and featured speakers representing the subsidiary bodies such as the CTC, the 1267 Committee, CTED and the Counter-Terrorism Implementation Task Force (CTITF). IPI attendees included Vice President for External Relations Warren Hoge, Senior Policy Analyst Naureen Chowdhury Fink and intern Joshua Amata.
For more on IPI's work on countering global terrorism, visit www.ipinst.org/terrorism.