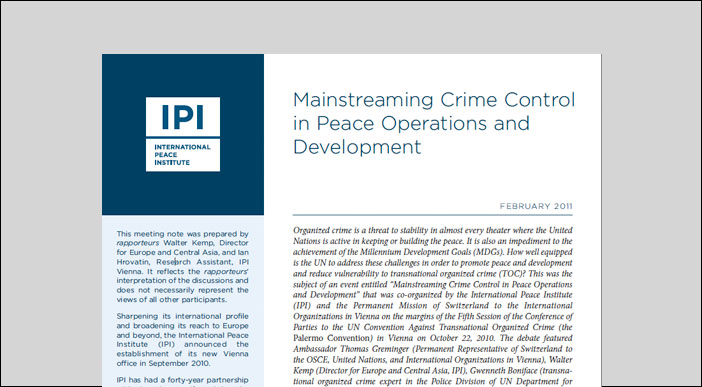 The UN Security Council has primary responsibility for the maintenance of international peace and security, and mandates the deployment of the approximately 100,000 blue helmets engaged in peace operations. But this approach has its limitations when it comes to crime control. Organized crime is a threat to stability in almost every theater where the UN is active in keeping or building the peace.
How well equipped is the UN to address the challenges in order to promote peace and development and reduce vulnerability to transnational organized crime?
This publication is the outcome of an event entitled "Mainstreaming Crime Control in Peace Operations and Development" held in Vienna on October 22, 2010. The event was co-organized by the International Peace Institute and the Permanent Mission of Switzerland to the International Organizations in Vienna on the margins of the Fifth Session of the Conference of Parties to the UN Convention Against Transnational Organized Crime (the Palermo Convention).
The event's debate featured:
Ambassador Thomas Greminger (Permanent Representative of Switzerland to the OSCE, United Nations, and International Organizations in Vienna);

Walter Kemp (Director for Europe and Central Asia, IPI);
Gwenneth Boniface (transnational organized crime expert in the Police Division of UN Department for Peacekeeping Operations);
Anna Alvazzi del Frate (Senior Researcher, Small Arms Survey/Geneva Declaration on Armed Violence and Development); and
Mark Shaw (Officer-in-Charge of the Integrated Program and Oversight Branch in the Division for Operations of the United Nations Office on Drugs and Crime).