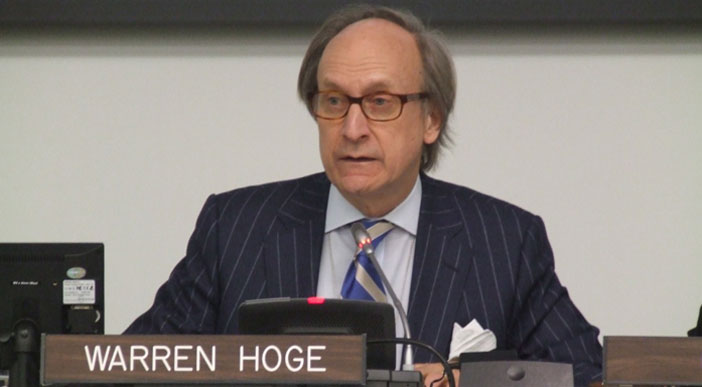 Warren Hoge, IPI's Vice President for External Relations, told an Organization of the Islamic Conference (OIC) meeting on interfaith development, reconciliation and peacebuilding initiatives at the UN that "religion can be a powerful tool for peace if it is used in a constructive manner."
In a speech entitled "Faith: A Catalyst for Conflict Resolution," Mr. Hoge told a gathering in the ECOSOC Room of dramatic instances in a number of countries where religious leaders and faith-based organizations intervened in conflict situations to help produce reconciliation.
Among the areas he discussed were Colombia, Liberia, Mozambique, Sierra Leone, South Africa, and the region of Central and South America at a time in the early 1980s when a number of its nations were victimized by dictatorships and guerrilla warfare.
From left: Hoge, Breyer, Gokcen, Rosemblum-Kumar, Karam,
Khan, and Huda. Photo credit: Satanay Eshak
Before listing these positive examples, he said, "It would be delinquent of me not to acknowledge the fact that religion can also be a cause of division, and religious diversity can become distorted into religious militancy, particularly in those situations where religion and nationality become entwined, and historical myths and cultural symbols associated with religions become elements that unify warring factions rather than pacify them."
But he asserted, "Faith is a powerful force, and when different faiths come together for the cause of peace, their forces multiply."
Ofuk Gokcen, the Permanent Observer of the Organization of the Islamic Conference to the United Nations, chaired the session, which was a side event to the commemoration of the first ever World Interfaith Harmony Week, an initiative of King Abdullah II of Jordan and the UN General Assembly.
Joining Ambassador Gokcen and Mr. Hoge on the panel were:
Ms. Gay Rosenblum-Kumar, UN Interagency Framework Team for Preventive Action
Dr. Azza Karam, United Nations Population Fund (UNFPA)
The Rev. Chloe Breyer, Interfaith Center of New York
Dr. Qamar-ul Huda, US Institute of Peace (USIP)
Ms. Daisy Khan, American Society for Muslim Advancement (ASMA)

 The text of Mr. Hoge's remarks is here