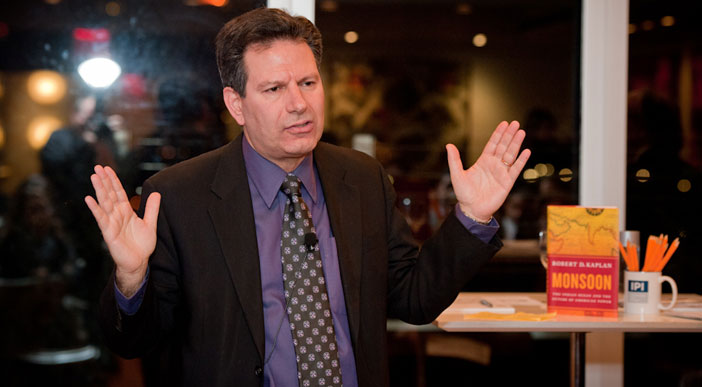 "What this book is really about is the last phase of Western dominance in the Indian Ocean," author Robert D. Kaplan told an audience at an IPI Beyond the Headlines event featuring his book Monsoon: The Indian Ocean and the Future of American Power.
The book posits the premise that while the Atlantic and Pacific Oceans were the twentieth century venues of significant economic, geopolitical and military developments, in the twenty-first century the central arena will be the Indian Ocean.
"We're seeing a more fluid, organic continuum emerge whereby China affects Iran, and Iran affects India, and natural gas and oil in the Arabian Peninsula affects decisions made in China so that everything flows together," he said.
Around the Indian Ocean there are thirty-seven countries, representing a third of the world's population, and a Greater Indian Ocean map goes from the Red Sea in the Horn of Africa all the way to the South China Sea. "It embraces the entire arc of Islam, from the Sahara Desert to the Indonesian archipelago," he noted.
And thanks to the predictable monsoon wind patterns, he said, travel between the far-flung parts of the Indian Ocean is relatively rapid and completely dependable, establishing trade and geopolitical connections throughout history that will spur the region's growth in the twenty-first century.
"It's in the littorals," he writes, "where global issues such as population growth, climate change, sea level rises, shortages of fresh water and extremist politics–the last of which is affected by all the other factors–acquire a vivid geographical face."
The IPI event took place the evening of February 2nd, and the moderator was IPI's Vice President for External Relations, Warren Hoge.

 Read transcript
To listen to the podcast, click the "play" button: