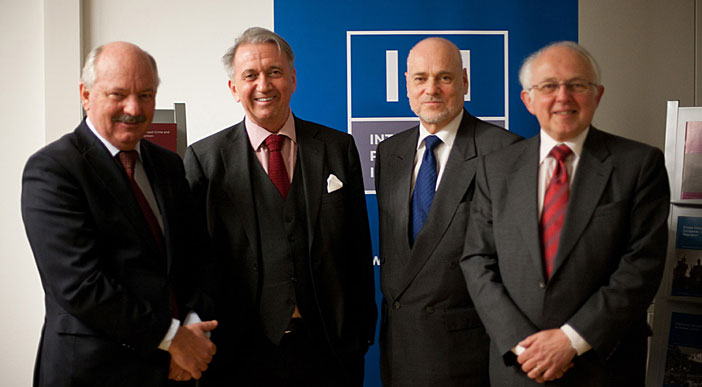 On March 1st, IPI's Vienna office convened a meeting to officially constitute the Vienna Advisory Council. The council has been formed in order to give advice with respect to the research, analysis, policy development, outreach, convening, and other programmatic activities of IPI's work in Vienna.
The Vienna Advisory Council is made up of nineteen distinguished individuals in the fields of international affairs, diplomacy, and conflict resolution. They are predominantly ambassadors to Austria and heads of Vienna-based intergovernmental organizations.
Among those Vienna Advisory Council members in attendance were:
Mohamad Hamad Omran Alshamsi, Ambassador of the United Arab Emirates to Austria

Torben Brylle, Ambassador of Denmark to Austria

William C. Eacho III, Ambassador of the United States of America to Austria

Thomas Greminger, Ambassador of Switzerland to Austria

Jean Marc Hoscheit, Ambassador of Luxembourg to the Netherlands
Maria-Pia Kothbauer, Princess of Liechtenstein and Ambassador of Liechtenstein to Austria

Richard Kühnel, Head of Representation of the European Commission in Austria

Johannes Kyrle, Secretary-General, Austrian Federal Ministry for European and International Affairs

Hans Lundborg, Ambassador of Sweden to Austria

Eva Nowotny, President of the Austrian UNESCO Commission and former Ambassador of Austria to the United States

Jan Petersen, Ambassador of Norway to Austria

Marjatta Rasi, Ambassador of Finland to Austria
The remaining members of the Vienna Advisory Council are:
Prince Mansour Bin Khalid Al-Saud, Ambassador of the Kingdom of Saudi Arabia to Austria

Marc Perrin de Brichambaut, Secretary-General of the Organization for Security and Cooperation in Europe

Erhard Busek, former Vice Chancellor of Austria, President of Forum Alpbach

Yuri Viktorovich Fedotov, Director-General of UNOV in Vienna and Executive Director of the United Nations Office on Drugs and Crime (UNODC)

Benita Ferrero-Waldner, former European Commissioner for External Relations and European Neighbourhood

Yerzhan Kh. Kazykhanov, Deputy Foreign Minister of Kazakhstan

Kandeh Yumkella, Director-General of the United Nations Industrial Development Organization
"IPI has a proud tradition, a solid financial basis, an established reputation, and great expectations," said IPI President Terje Rød-Larsen at the meeting. "Our Board, our staff and our donors are united by a commitment to peace. I know that you share that goal, which is why I am proud that you have agreed to join the IPI family."
Mr. Rød-Larsen made a presentation to the newly constituted Council, explaining IPI's history, mission, programs and financial situation. He described IPI as a "do tank," not just a think tank. "We don't just draft policy suggestions, we help states and organizations to implement their objectives," he said.
Mr. Rød-Larsen also highlighted a number of global "mega-trends" and their impact on each other. "The world is changing at an unprecedented pace: states, international organizations, and think tanks need to keep up."
"IPI can help to make sense of a changing world, and to assist the multi-lateral system to adapt," he said.
Mr. Rød-Larsen explained how IPI is changing with the times. In addition to its well-established tradition of policy research, policy advice, convening and events, IPI will be launching an e-magazine on global issues (particularly related to the UN and other multilateral organizations); it will expand its training of diplomats and civil servants to deal with future multilateral challenges; and it will create an online portal–called the Global Observatory–that will provide expert views and resources (such as audio and video features, maps and databases) to explain global events affecting international peace and security.
IPI's Vienna office, which opened in the autumn of 2010, is its first office outside of New York. Among the office's current projects are assisting Lithuania's Chairmanship of the Organization for Security and Cooperation in Europe, and looking at the impact of organized crime on peace operations. It will host the forty-first IPI Vienna Seminar on May 23rd-25th on the topic of coping with crisis in Europe and Central Asia.
Rita E. Hauser is Chair of IPI's Board of Directors. The names of the directors and the members of IPI's International Advisory Council can be found here.